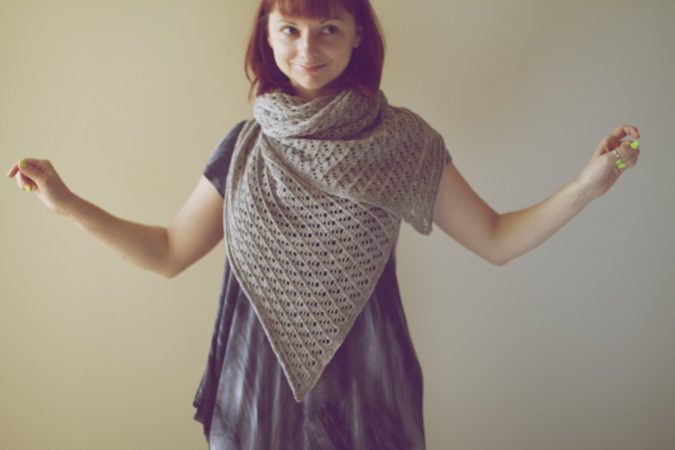 In translation from Japanese Ama-sei 亜麻製 means "flaxen".
This fun rectangular shawl is a beginner knitting project for someone who wants to learn how to knit lace. The combination of fingering linen and cobweb merino yarns together create wonderful drapey accessory yet it's cosy and comfortable. Perfect for chilly summer evenings as a wrap and it's easy to bundle up in colder weather.
With a simple pin I got at Churchmouse yarns and teas this summer I turned this shawl into a cardigan.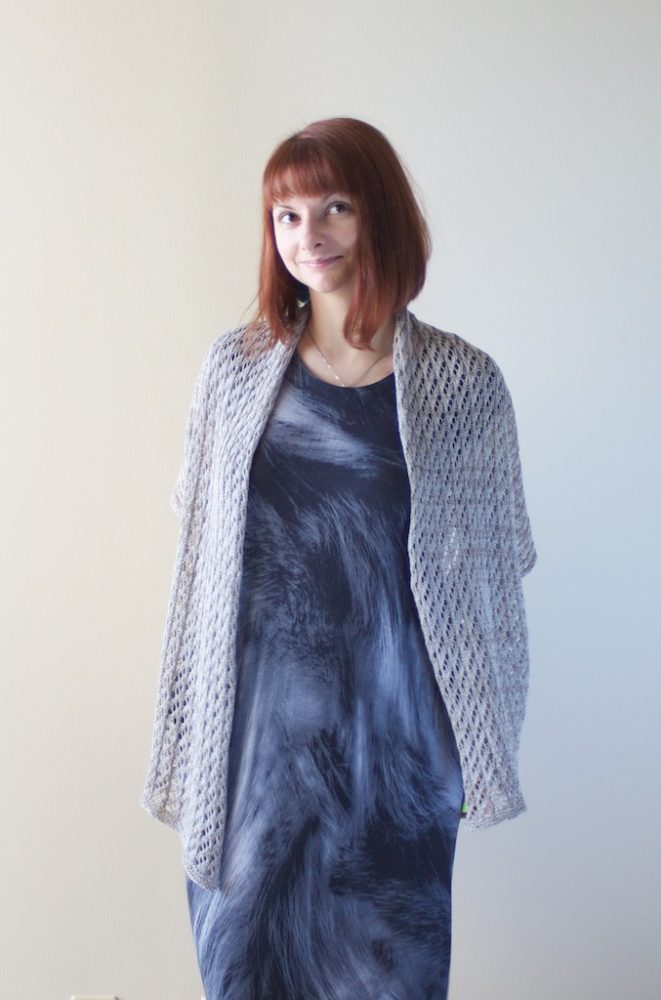 And I love the slouchy look of this makeshift cardigan in the front.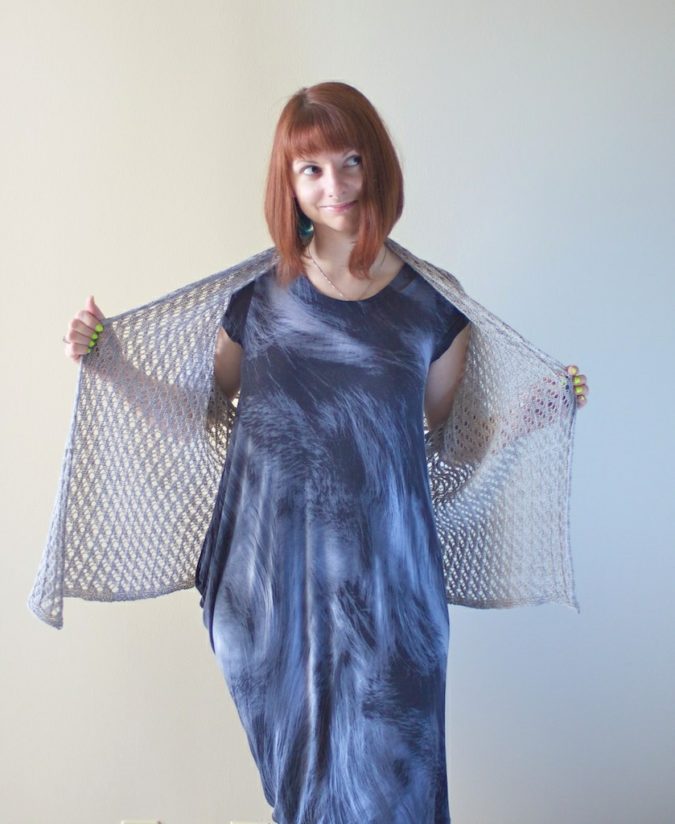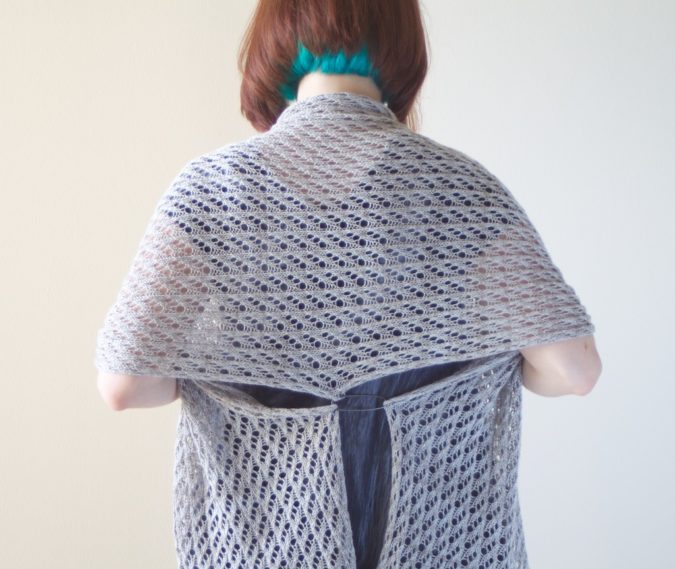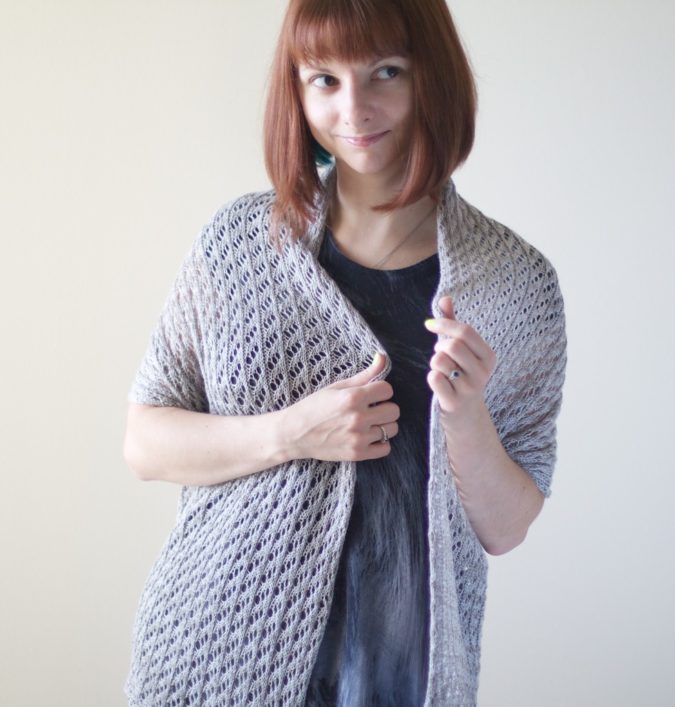 Or just more like a basic scarf scrunched up.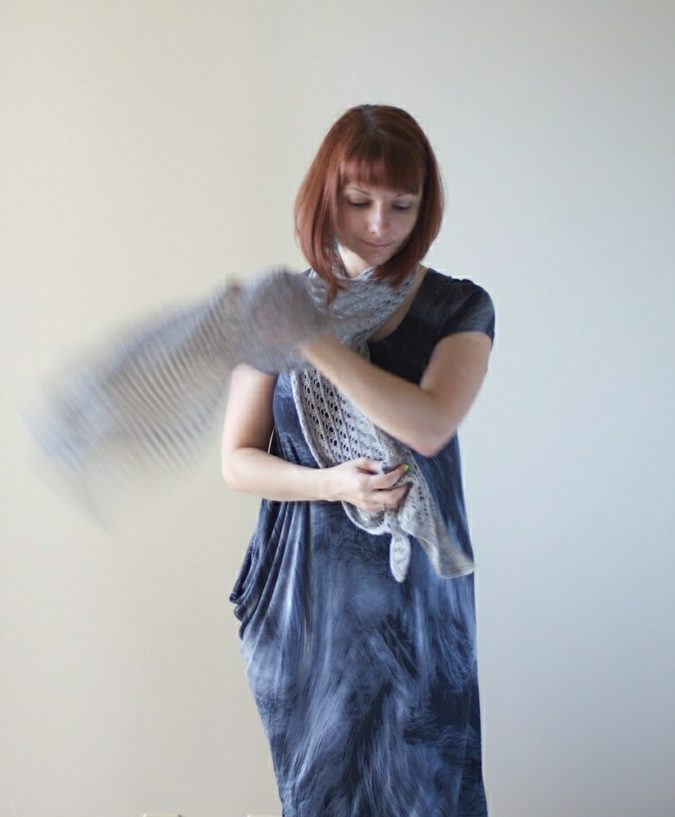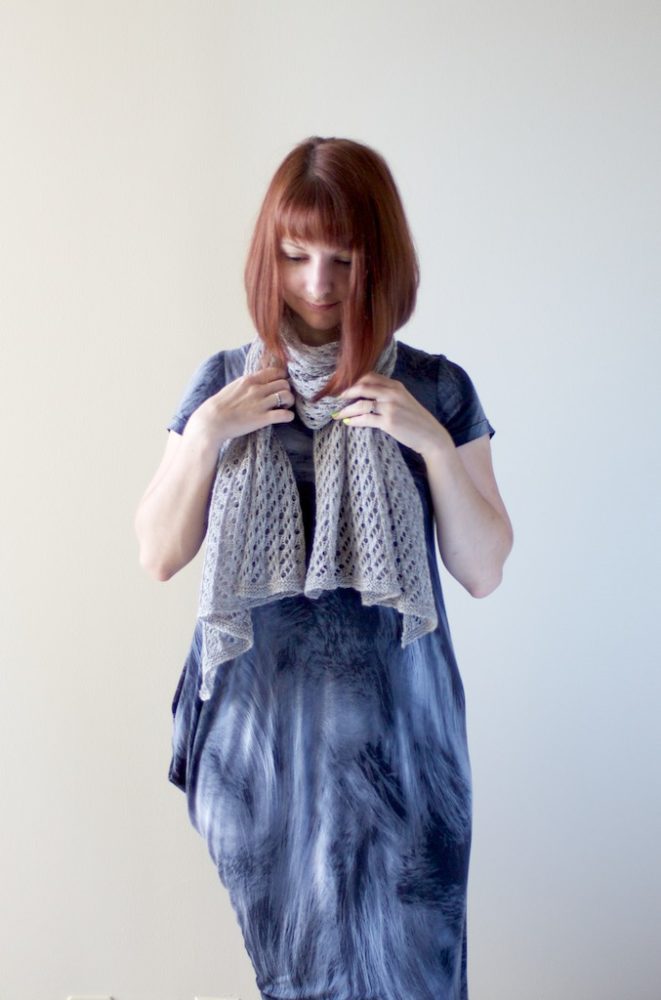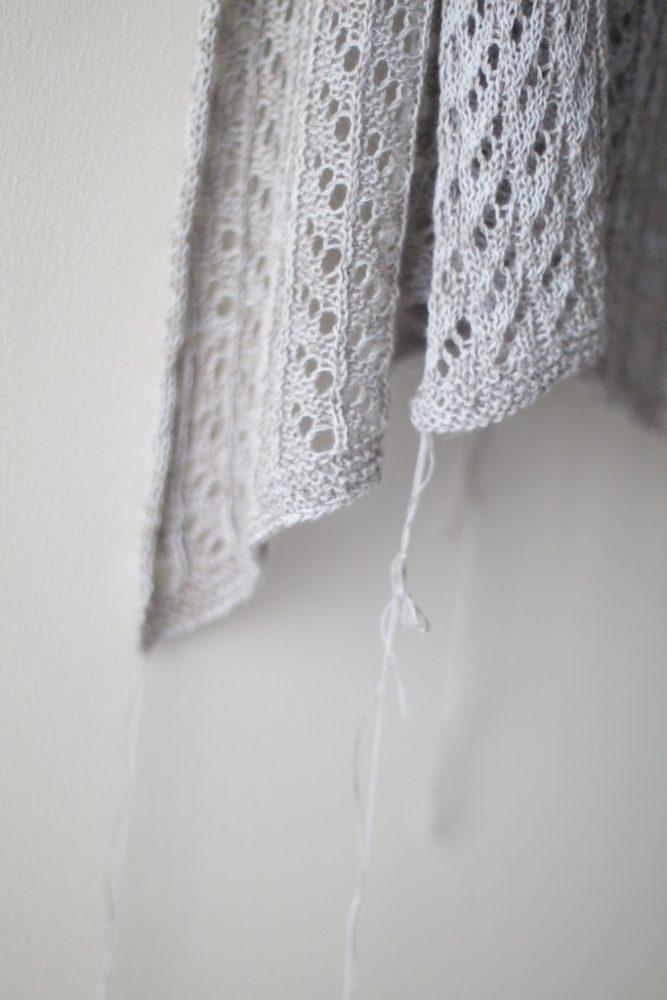 Please enjoy free pattern below, please do not copy and re-post text/chart of the pattern elsewhere. Just link to this post. Have questions? Just ask!
Skill Level
Beginner
Finished size
Approx. 70″ length and 23″ width (blocked)
Yarn
Yarn A:
Habu Textiles XS-21 Linen (100% linen), (763 yds/698 m per 100g/3.5 oz), 2 skeins
OR
Habu Textiles XS-55 Linen (100% linen), (370 yds/339 m per 48g/1.7 oz), 4 skeins
Yarn B:
Habu Textiles N-75 Fine Merino (100% wool), (747 yds/683 m per 28g/1oz), 2 skeins
NOTE: Yarns A and B are worked together throughout in the sample shawl, but if desired you can omit Yarn B and work with a single strand of Yarn A only.
Needles
US 5 (3.75 mm)
OR use size needle to obtain gauge
Other
Markers (optional)
Tapestry needle
Gauge
20 stitches and 32 rows = 4″ in St st with 1 strand of A and 1 strand of B held together
Notes
To help keep track of lace pattern, separate each repeat by placing stitch markers at the * indicators in the pattern below.
Directions
Holding both yarns together, cast on 118 stitches using the long-tail method.
Work 6 rows in Garter stitch (knit every row).
Row 1 (RS): K1, *p1, k2, ssk, yo; repeat from * to last 2 stitches, p1, k1.
Row 2: P1, k1, *p4, k1; repeat from * to last st, p1.
Row 3: K1, *p1, k1, ssk, yo, k1; repeat from * to last 2 stitches, p1, k1.
Row 4: Work same as row 2.
Row 5: K1, *p1, ssk, yo, k2*, repeat from * to last 2 stitches, p1, k1.
Row 6: Work same as row 2.
Work rows 1-6 for a total of 67 times or until shawl is desired length, keeping in mind that a larger shawl will require more yarn. Make sure to save enough yarn to work the final border rows.
Work 6 rows in Garter stitch. Bind off all stitches loosely on the next row.
Wash and block.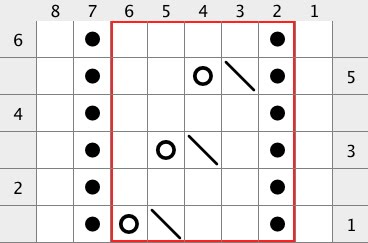 Red box represents a single pattern repeat.

K – Knit on RS, Purl on the WS.

P – Purl on the RS, Knit on the WS.

YO – Yarn over.

SSK – Slip, slip, knit those 2 slipped stitches together.