As it's true for many, most of the process on each of my designs often takes place over a period of time. Sometimes it's months, sometimes years!
Having ideas in my notebook sitting around awaiting that perfect match with yarn to be made. But sometimes it's the yarn color(s) that strikes the inspiration pot to start churning.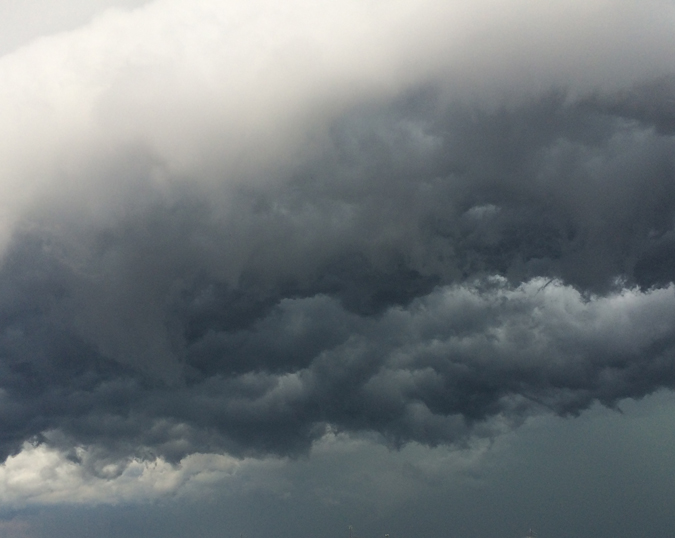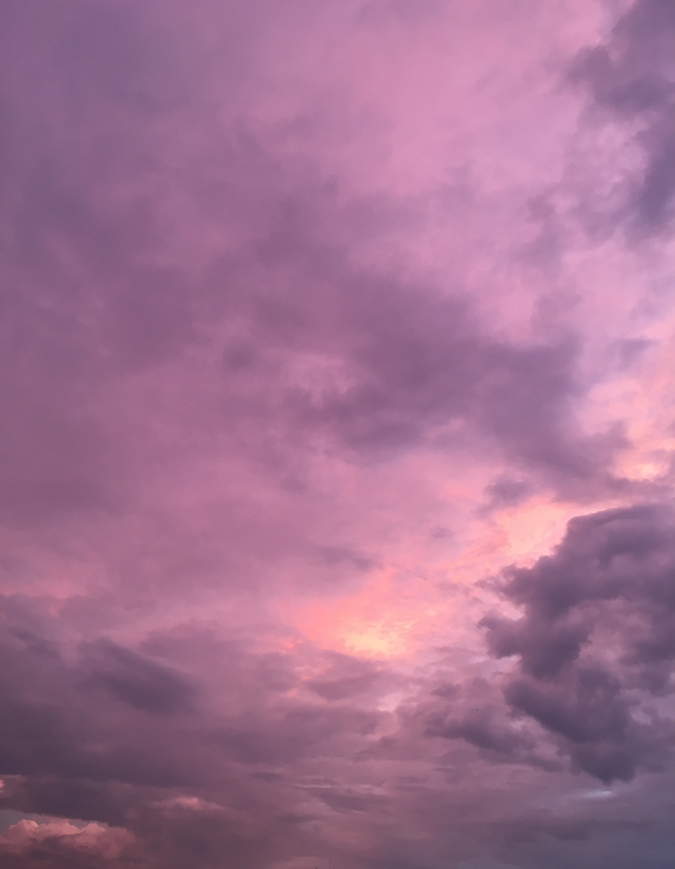 Last year I was visiting my parents and the weather has been quite typical for their summer, numerous thunderstorms and couple of hot days, but the views afterwards have been quite stunning that I had to document them. As I kept looking at those images when I got back home I got reminded about 2 sets of gradient kits that I got from Miss Babs trunk show hosted at Fibre Space the year before. I've bought Taurus and Ursa Major colors without a design or idea in mind, simply because I was being drawn to that unusual color combination.

The rolling cloud shapes are very often interpreted in variety of ways in knitwear, but for striped wave effect I wanted to have the most of color visible as possible! Old Shale is probably one of the oldest stitch patterns around that I could immediately think of when wanting to create waves with the stripes and through years there have been so many wonderful renditions in different designs of it. I wanted to do something different, I definitely didn't want to do lace. I wanted for the texture to be as much of a key player as the color of these beautiful gradients and with them being worked in a way that would showcase each color when worn. The most exciting part for me as a designer these days is the mathematical puzzle that a stitch pattern can present. Settling in with some graph paper and a pen first, then some charting software on the computer, I created first couple of increasing motifs that made me giddy with excitement as I dug into my swatch. How long and how wide… but the idea of having all this is shaping to be incorporated directly into the patterning indeed have worked out!
Math, you thing of beauty that make this knitter's heart sing!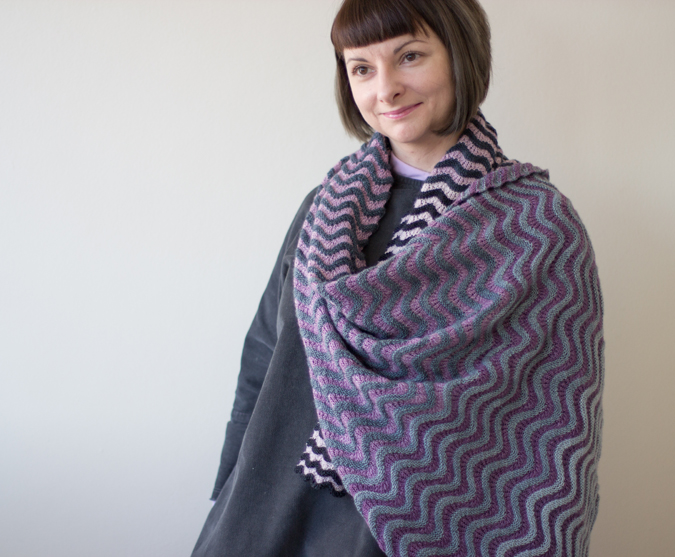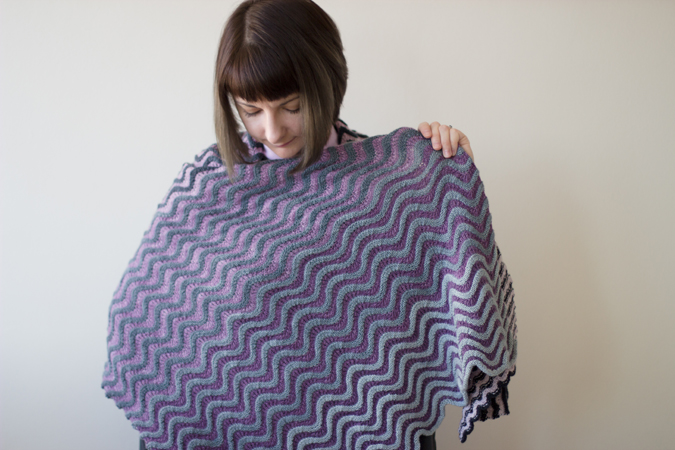 I rated this pattern as Beginner Intermediate, which is a rare one for me. Those who have knit several of my patterns know that I love puzzles and creating patterns that teach or have some unusual twists to them! All you need to know is to how cast on, knit, purl, increase, decrease, bind off! I am also offering a narrower, scarf-like size of Denpa, just in case you are not used to or not keen on wearing wide shawls as much!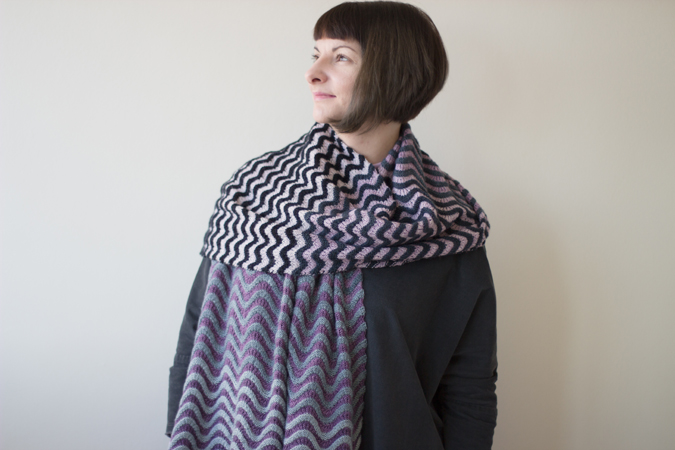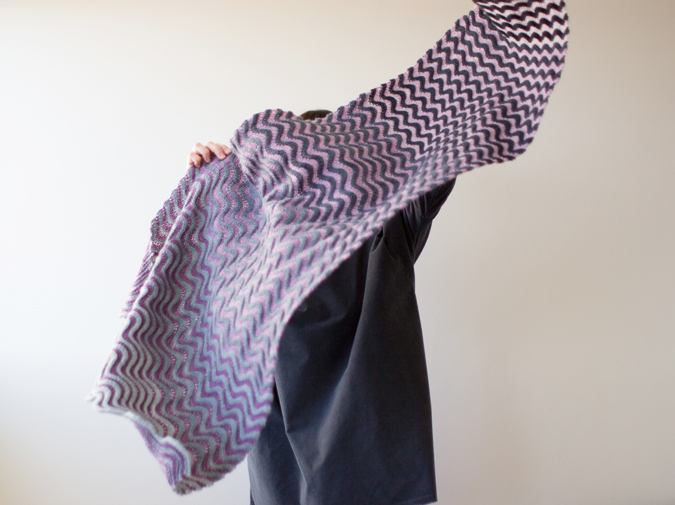 The thing about stripes is that if you cannot find a gradient kit available to you or if you don't have enough yardage, you can easily customize and substitute the ombré dyed yarns with solid dyed colors. Find a yarn that you love and that has a big range of colors available, so that you can build your own gradient. And it doesn't have to be 2 gradients, you can choose to do 1 gradient but for the contrast pick one color only that would compliment and work with all of the colors of that one gradient. You can put the solid color into foreground or into background. You can do the entire wrap in 2 colors only. The choices are endless! Just let your creativity and imagination loose and I am sure you can find the right color and yarn for your Denpa to make it unique, and to enjoy knitting and wearing it!
You can find more details on Denpa pattern here. And don't forget to check Denpa projects already in progress on Ravelry.
Remember, if you share your project on social media/Instagram, make sure to tag it so I can see it #denpashawl