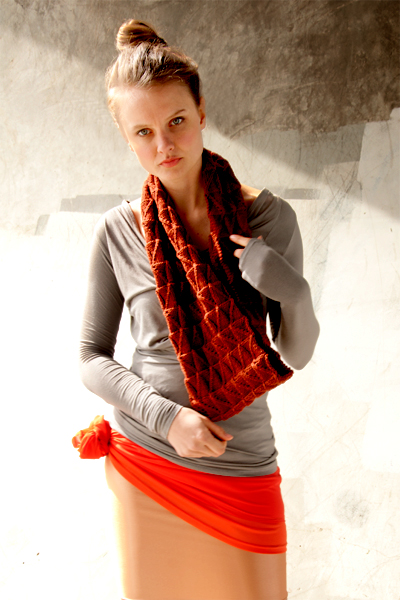 Last year I was asked to be a part of this exciting new project for Shibui Knits yarn company, following the release of my Shibui Silk booklet.
Shibui Geometry is a collection of single printed leaflet patterns with a stunning visual and carefully selected palette.
A range of interesting garments is comprise of 8 patterns from different designers.
My design contribution is Hypotenuse.
Hypotenuse. The longest side of a right triangle, opposite the right angle.
This funky accessory with three dimensional texture can be styled in several looks. Loop style cowl is bouncy and is reminiscent of armor. The Staccato yarn used double contains silk that makes light reflect the highly textured surface. The construction is relatively simple, yet makes knitter polish their techniques and possibly learn a new one. Eye-catching yet dramatic way to exhibit your taste. Pairing it with your favorite tailored jacket or coat or to compliment your favorite layered outfit.
Now something special for all of you!
I am giving away a whole set of 8 patterns (1 of the pamphlets contains 2 patterns inside) for the whole Shibui Geometry collection!
And 3 copies of just Hypotenuse cowl to 4 lucky winners!
What do you need to do to enter:
Tell me in the comments below which is your favorite Shibui Knits yarn to work with!
And Join Olgajazzy designs group on Ravelry to increase your chances of winning!
Please leave your comment with your Ravelry ID or email or other way of contacting you.
Entries will be open till Tuesday, October 2, 11:59pm EST.
Thank you everyone for participating! Entries are now closed and winners will be announced later this week!
Good luck and Happy Knitting!!!