I must admit I have missed blogging these past couple of months! So many travels and so many happenings are afoot and I am looking forward to telling you all about them. I don't remember when I have spent such travel intensive months last but I am certainly very happy to be back home, so I can catch up on all of my work knitting and try to squeeze a new thing to wear for myself! Afterall, I need to enjoy making things for myself from time to time. While traveling the increasing temperatures in Japan and here, in the Northern Hemisphere, got me thinking that I do miss wearing and having more linen clothing and knits. Linen, ramie, cotton, bamboo – these plant fibers have been on my mind a lot as of late and desire to knit something out of yarns with either inspiring me to fill those holes in my summer wardrobe. Honestly, I do have quite a bit of linen yarns in my stash and I can certainly put them to good use.
I did remember my favorite shirt from last summer, Irokata Tee below which really saved me in some extremely humid weather. In fact, I am considering next color combination to make! So many possibilities… White certainly seems to be the "IT" color for summer this year and I am thinking to switch the dark and light sections this time, just for fun!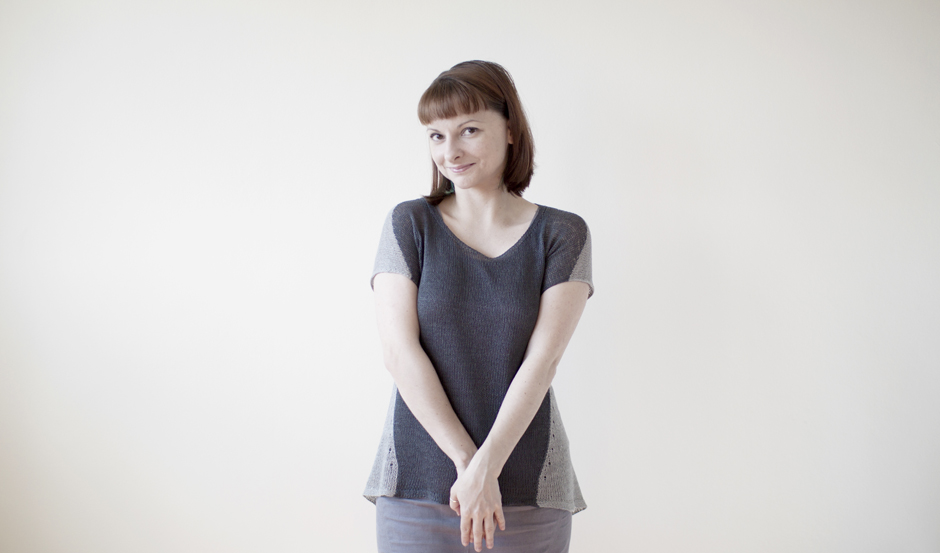 And if you are trying to put your linen to good use and get the most out of it  you may want to take a look at this Transform Garment – Sanagi Dress. It's created on a thicker needle and worsted weight yarn or in this particular case 2 strands of Shibui Linen yarn held together. Linen is amazing when it comes to drape, cool flowing and playful during wear. Plus it  wicks moisture, that is why linen is still among top fibers in woven cloths or knit for summer. Sanagi's versatility provides you with over 10 styling ways that are hip and suitable for many occasions. Here is the styling video for it that I made when the pattern was published a while back. Imagine you having all that fun in one garment!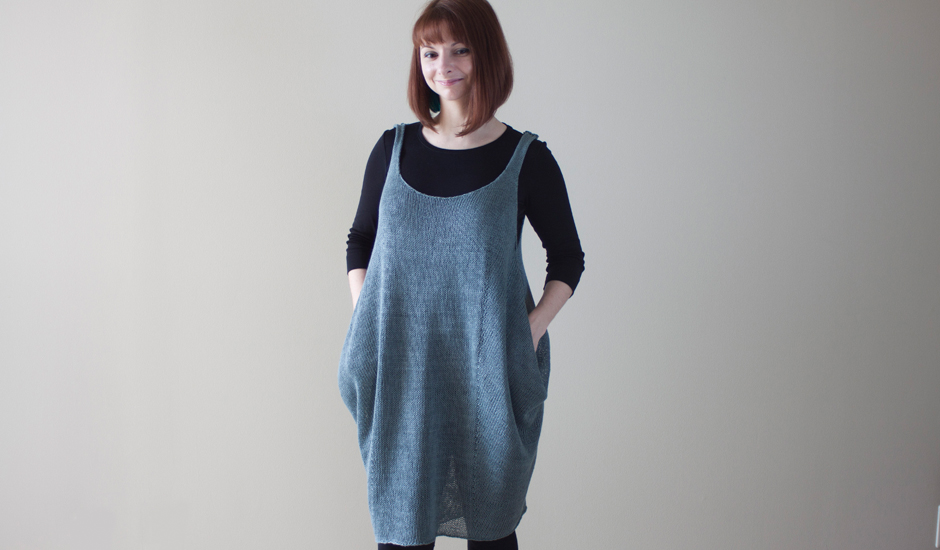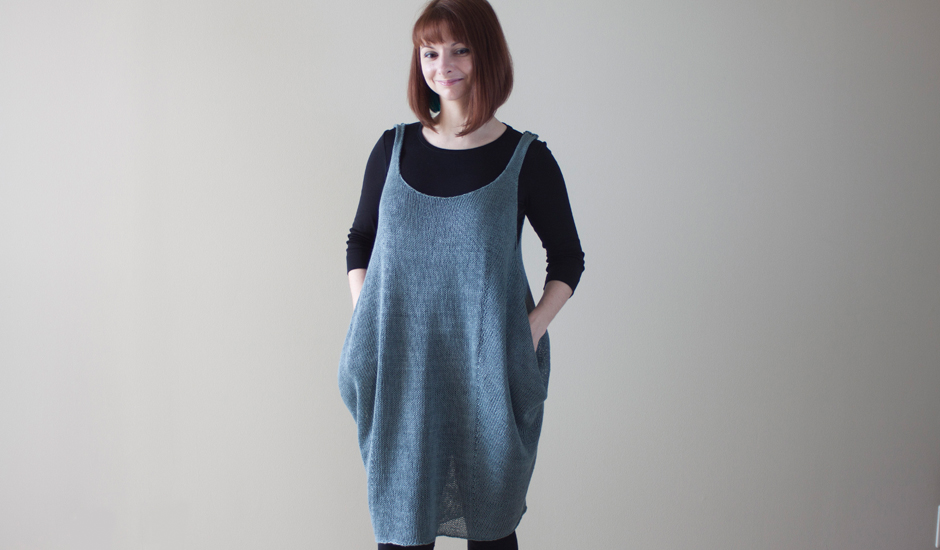 Knit skirts are often overlooked for summer, but I love wearing them. They are fun to make and to wear, especially if you wish to add more texture in your outfit. Heichi Skirt is knit sideways and uses smart placing for waist darts by working those as short rows and the dropped stitches are created in the very end. It is A-line silhouette which suits most and it is seamless which means that regardless how thick the yarn you are using – it will look perfect around your hips. It has been knit in Shibui Heichi yarn which unfortunately is being discontinued but fortunately for you Knit-Purl is having a massive sale for it right now in store and in their online store. To remind you as well, Francis , a popular summer top I have designed for Shibui Silk several years back that has gained over 5 thousand faves was also knit using Heichi and it can be your chance to make it with the original yarn without the large price tag attached to it, with it still being 100% silk from Japan!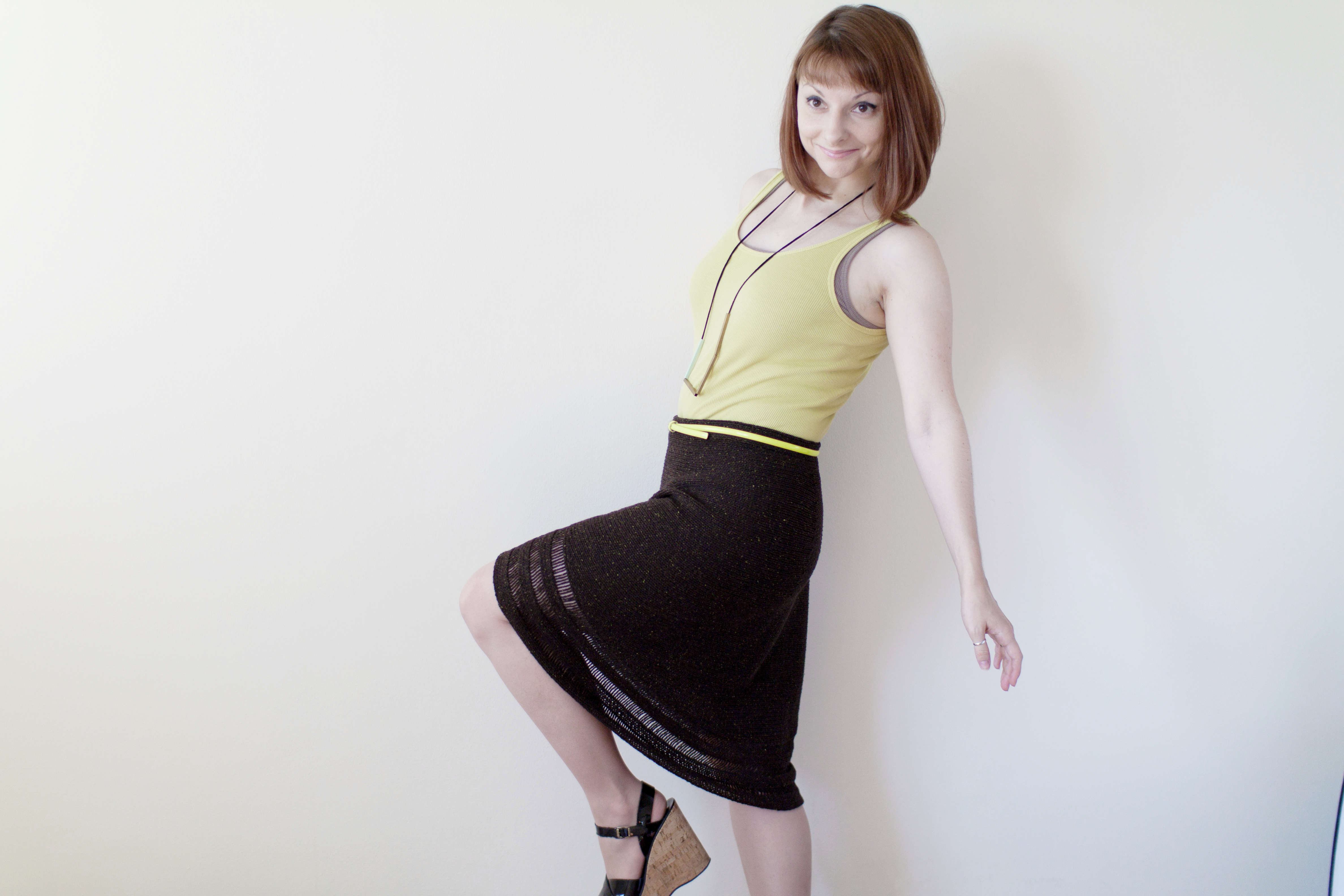 While I was away the industry did release new linen "birds" into the wild and I am quite excited to try those new linen yarns. Some I have even gotten my hand on already and might have cast on for that one sweater for myself this summer. Some I have been even lucky to preview as they are being prepared to flee the nest next year. But more about it next time!
Now tell me which are your favorite items and yarns to knit with in summer?