During almost 4 years of living in Japan I have tried to garner as much inspiration as possible and it was not hard at all – it's all around us. I think when it comes to designing, I have found some ways to organize the actual process for me that helps me to trace back to my thought and the origins of it.
So to go back to the beginning of this new design – Suke-Suke Cowl – I must tell you about its inspiration.
Yokohama Bridge spans across several small islands actually consists of 2 bridges, Yokohama Bay Bridge and Tsurumi Tsubasa Bridge and both feature cool steel cables that form a linear pattern but differ on the top. Tsurumi Tsubasa actually looks "pinched" on top and it looks especially cool when you are on the bridge. The first time I have seen the bridge was from the top of Yokohama Landmark Tower, which was the tallest built structure in Japan before Tokyo Sky Tree was opened several years ago. This is the bridge that we had to take to get to the airport and back, so every time I was on the lookout trying to snap some images. Unfortunately, Japanese drive rather fast on Japanese roads, so all my attempts were futile. But thanks to the internet, here is a good image of it, taken from the water.
The way I saw those lines, I envisioned them as pleats or as lines from dropped stitches, so it was more about doing the research and swatching several times before getting to a certain point that you know if the stitch works and is relevant to your inspiration. Swatching can be tedious and more of a trial and an error process, but a lightbulb might spring to mind during most random moments like dinner and you just know you need to drop everything and test the theory out. I even tried to work the idea out on a machine knitting swatch which didn't render any plausible effect. So hand knitting it was the way for me.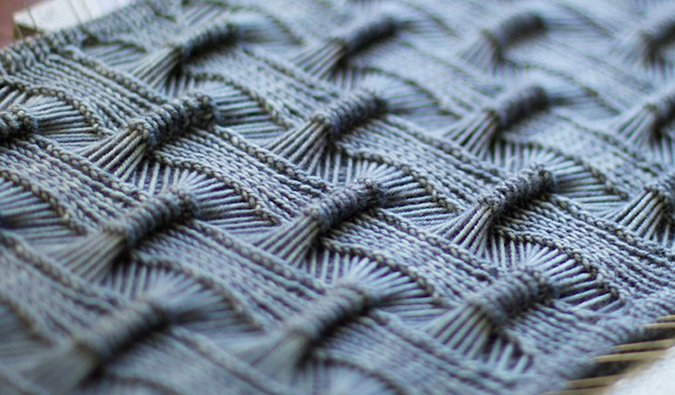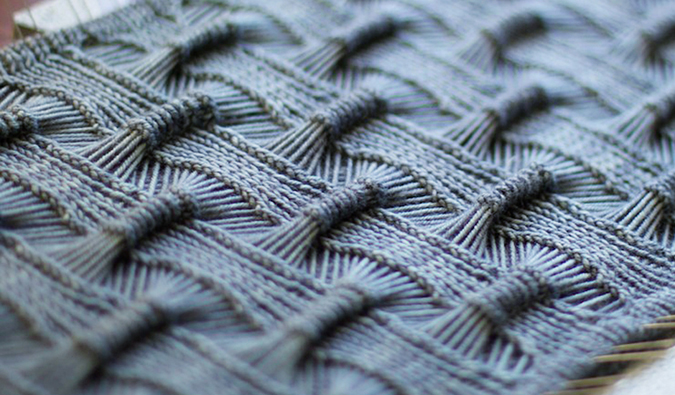 Last October, while teaching in Portland I have shown some of my earlier experimenting with this stitch pattern to my students during my 3D Knitwear class and how cool it was beginning to look.  To work a juxtaposition of something rigid and fluid, positive and negative space to create interesting patterning, surface design even only through knitwear. I have received great feedback about it which only inspired me to press on and keep working on it to perfect the make up and the finished result which you see here today.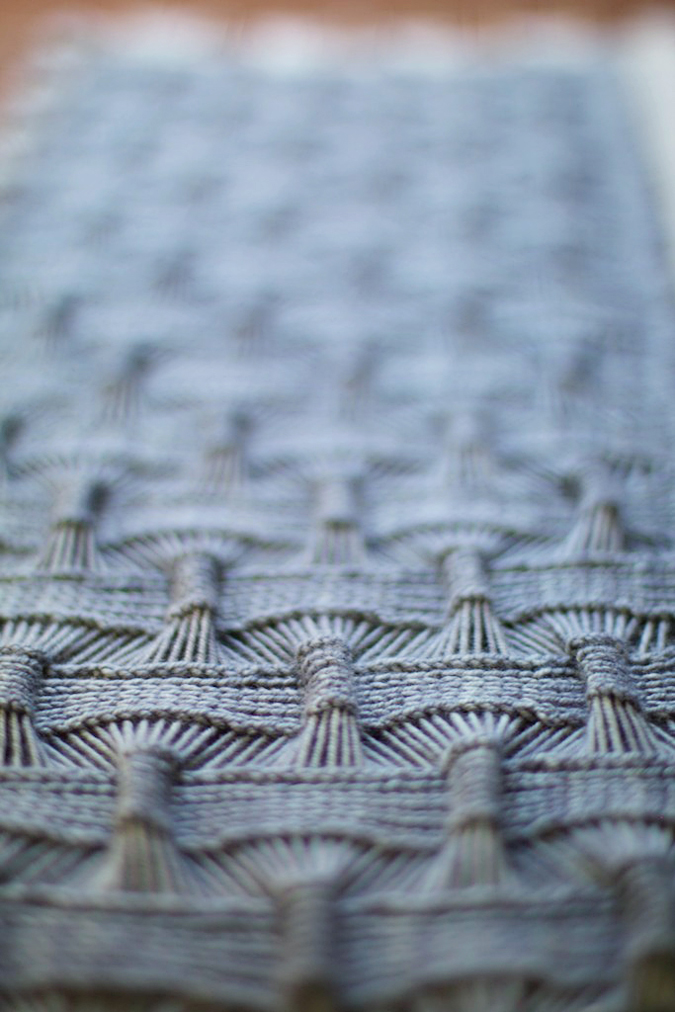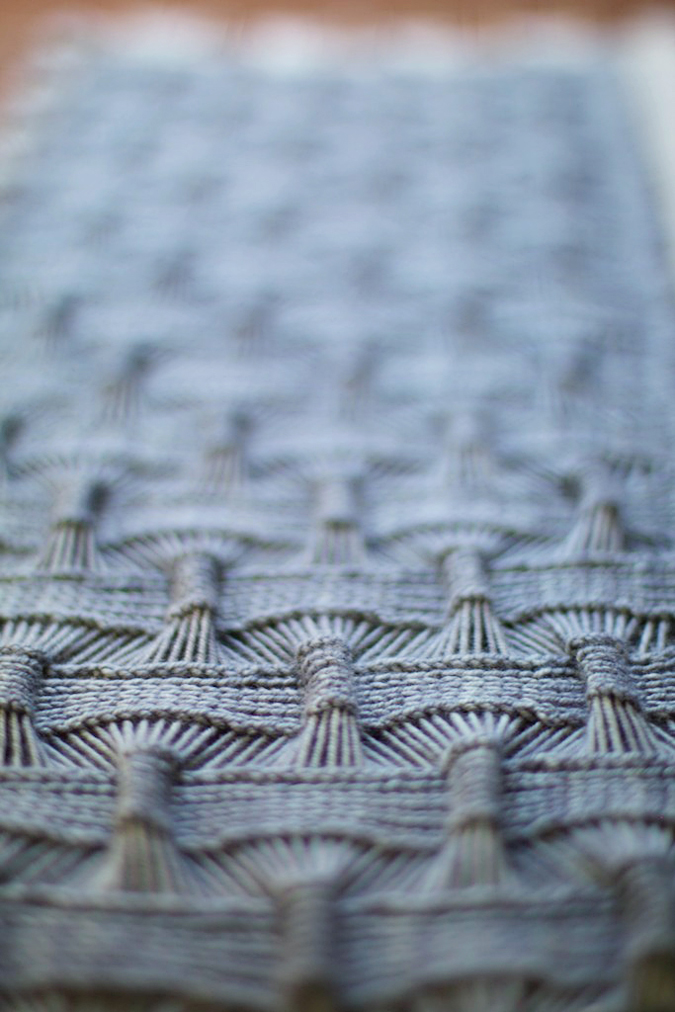 When it comes to yarn choice working these type of stitch patterns it can be quite grueling. I know as one might think – which yarn to use, First World problems? But to allow the stitch pattern show best the yarn had to be perfect for it. The Plucky Knitter Primo Aran was my choice for it. The pattern and the yarn compliment each other on every level and give the desired result, at least to me. The way that it's dyed as a semi-solid with a subtle over dye and because of the different fibers inside the yarn, the dye shows differently which  helps to make this patterning even more dimensional. As a result you see below, the larger size cowl that I worked in the beautiful Narragansett Grey color is reversible. The stitch pattern has different impression on each side and the larger version allow you more ways to play around with styling this accessory. The whole process took about a year, from the inspiration to testing, to swatching, to swatching some more and then finally the resulting design and pattern, but I hope you like it as much as I do.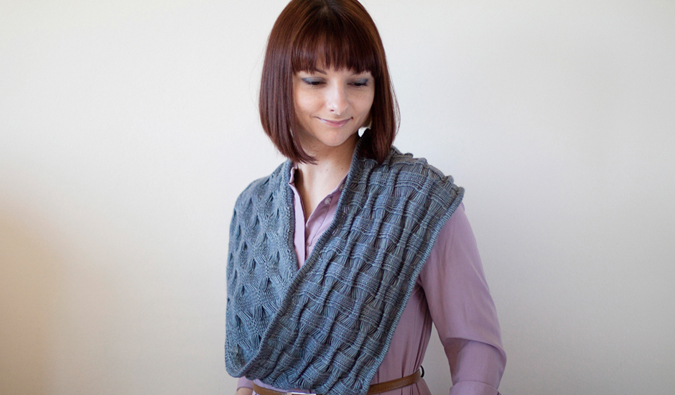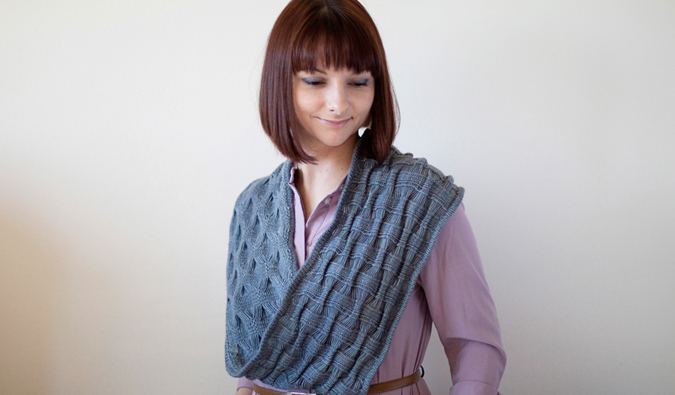 The pattern is completely written out  and it comes with 2 different size options – 24″ and 45″ in circumference, both have same height of 8.25″. When I had my test knitters working on this pattern some of them were actually surprised that it is not as complicated as it might seem at first sight. I did rate this pattern as one for an intermediate knitter simply for the time it takes to work through. Some of the joining rounds for the pleats and that you need to pay special attention to pick up the exact stitches or in the end you might discover the dropped stitch ladders not willing to align correctly.  Otherwise, it's really more of an advanced beginner type of a project.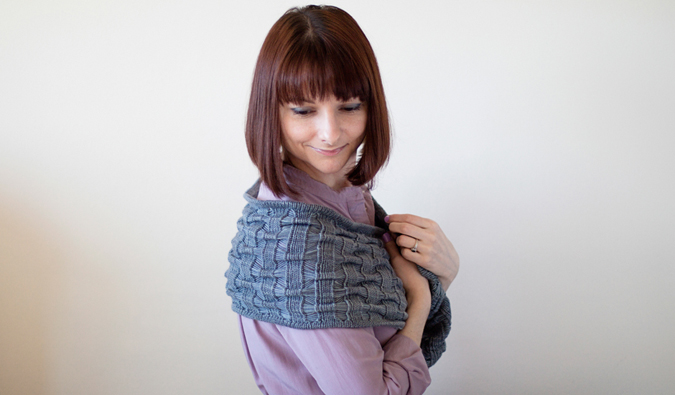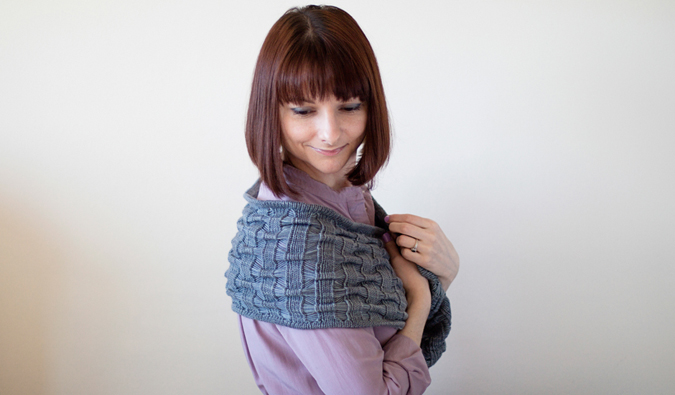 There are several versions of it knit up on Ravelry already. So which yarn would you choose? HAPPY KNITTING!!!



$ 6.00