It feels like forever. I have been working and waiting to publish these designs for a while now.  Meeting all the deadlines I've committed to, preparing, re-organizing. Waiting for that perfect moment.  One may wonder why it takes me this long to "birth" pattern designs into the world, but I feel the further I work with knitwear design, more I strive to perfection. And end up spending more time concentrating on quality of my patterns, editing and testing them and then editing again. And all of those things take time.
I have been exploring combining colors for ombré / gradient effects before via use of solid yarns. If previously, in Aranami, I used a modular technique worked up into a design, for these new designs I have been wanting to try another technique I've worked with before! Would some of you recall my Trace vest from Wool People 3? Similar, but not the same. And that's why it's new. But first I will start at the beginning of this story.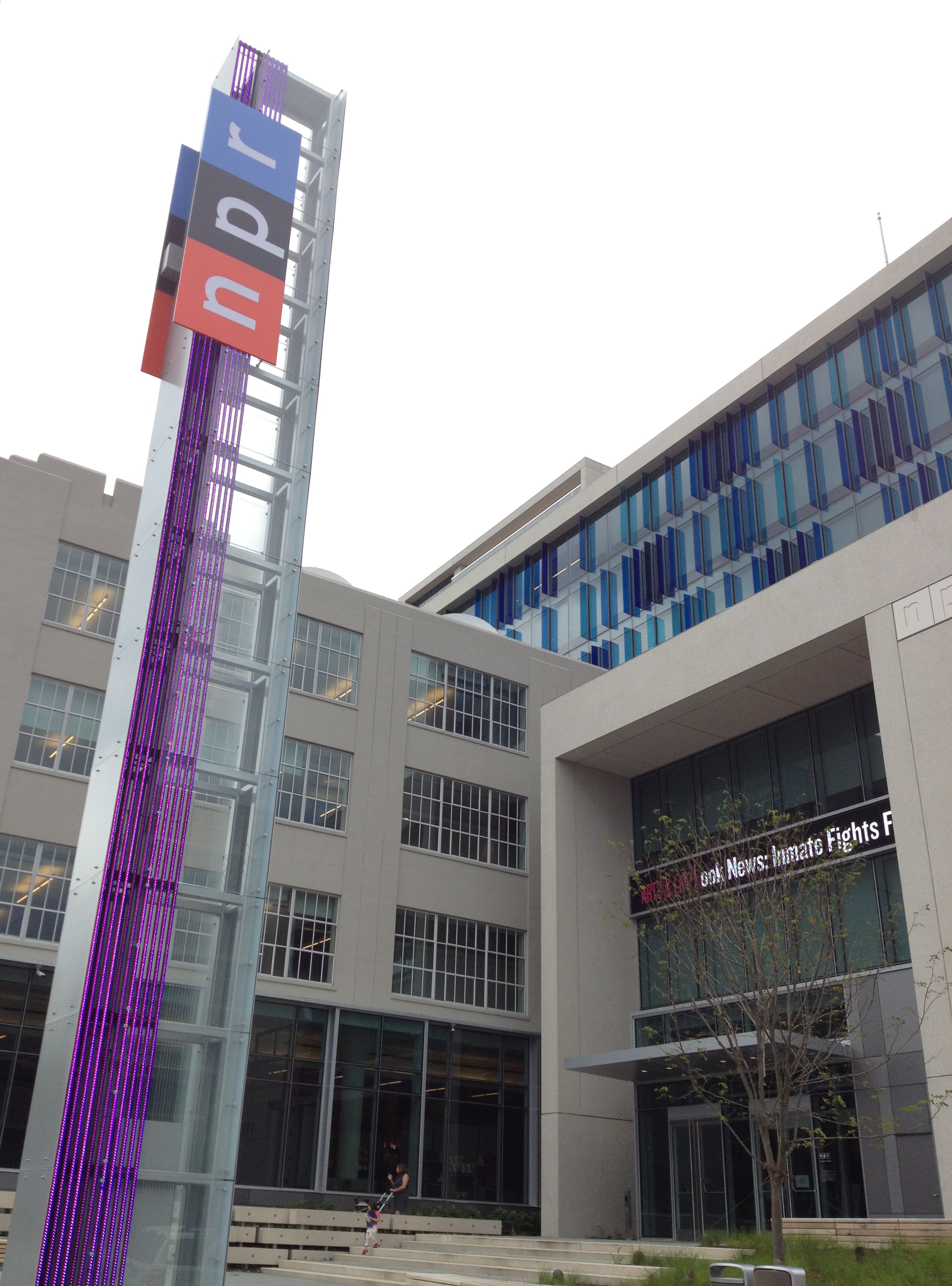 Rewind back to Summer of 2013, when we just moved back to DC area from Japan and dear friend Emily invited us to the friends and family day at new NPR – National Public Radio – headquarters in Washington, DC. Besides the privilege of visiting and touring this new building, it was a fun experience on its own – seeing the studios, people at work at news station, the Tiny Desk and enjoying stellar views of DC. It was great to see one of nation's respected news channels from the inside and a spectacular view of the newsroom floor from the bridge.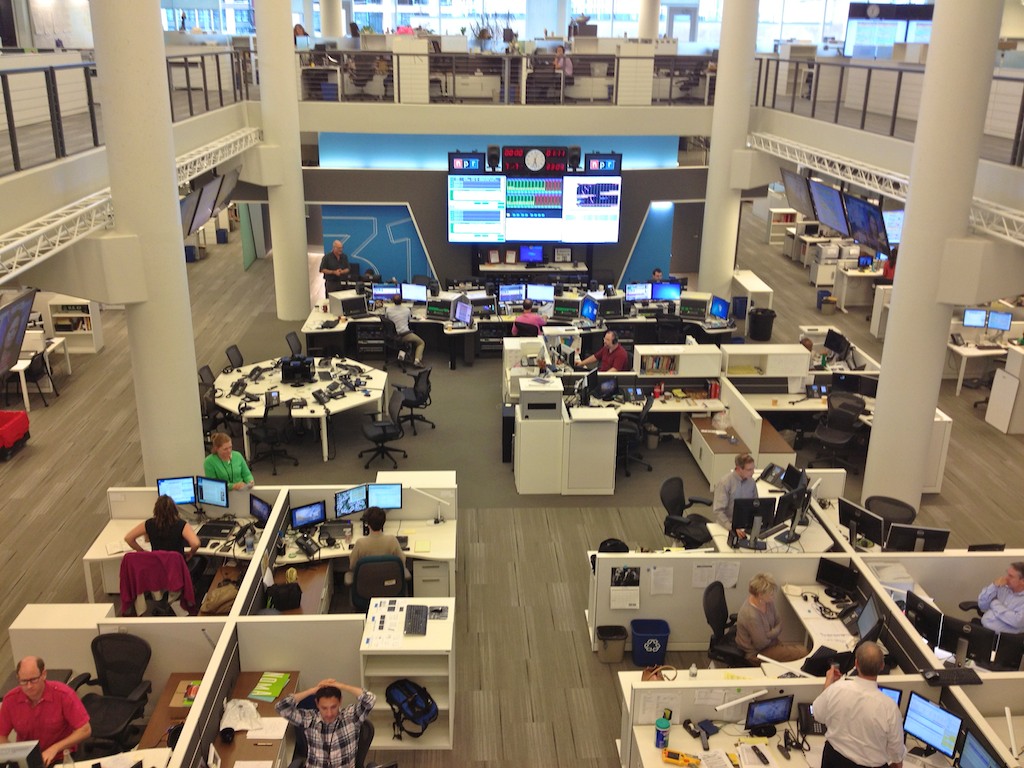 While exploring around the building and its new, minimal and fresh hallways, my eye caught upon a certain wall decor simply depicting the sound waves.  My friend told me, that her work a lot of times consists of staring at those "waves" on her computer day in and day out. So seeing that sound wave graphic incorporated into interior design felt like a great idea. The subtle changes of grey into white and going back to grey which triggered my thought of using similar pattern in trying to depict ombré, color gradient in knitwear and in this case by using colorwork technique.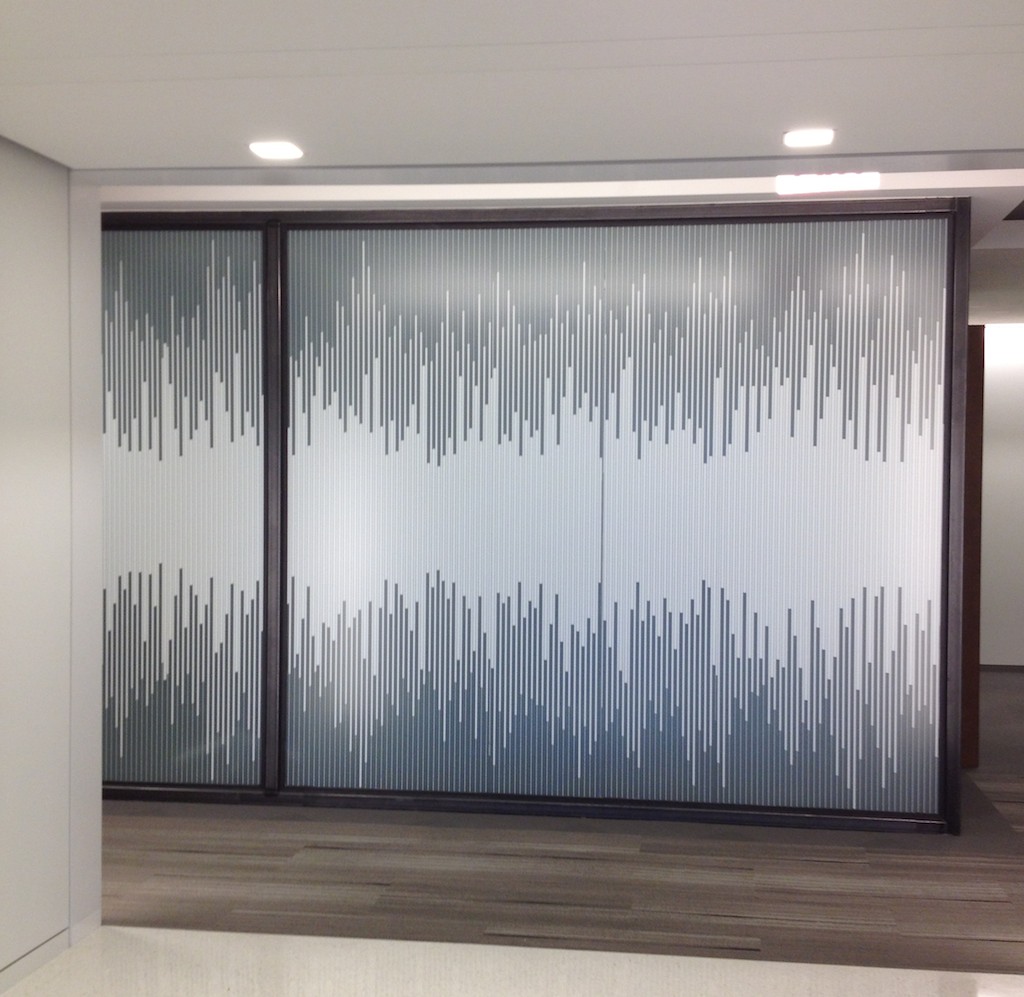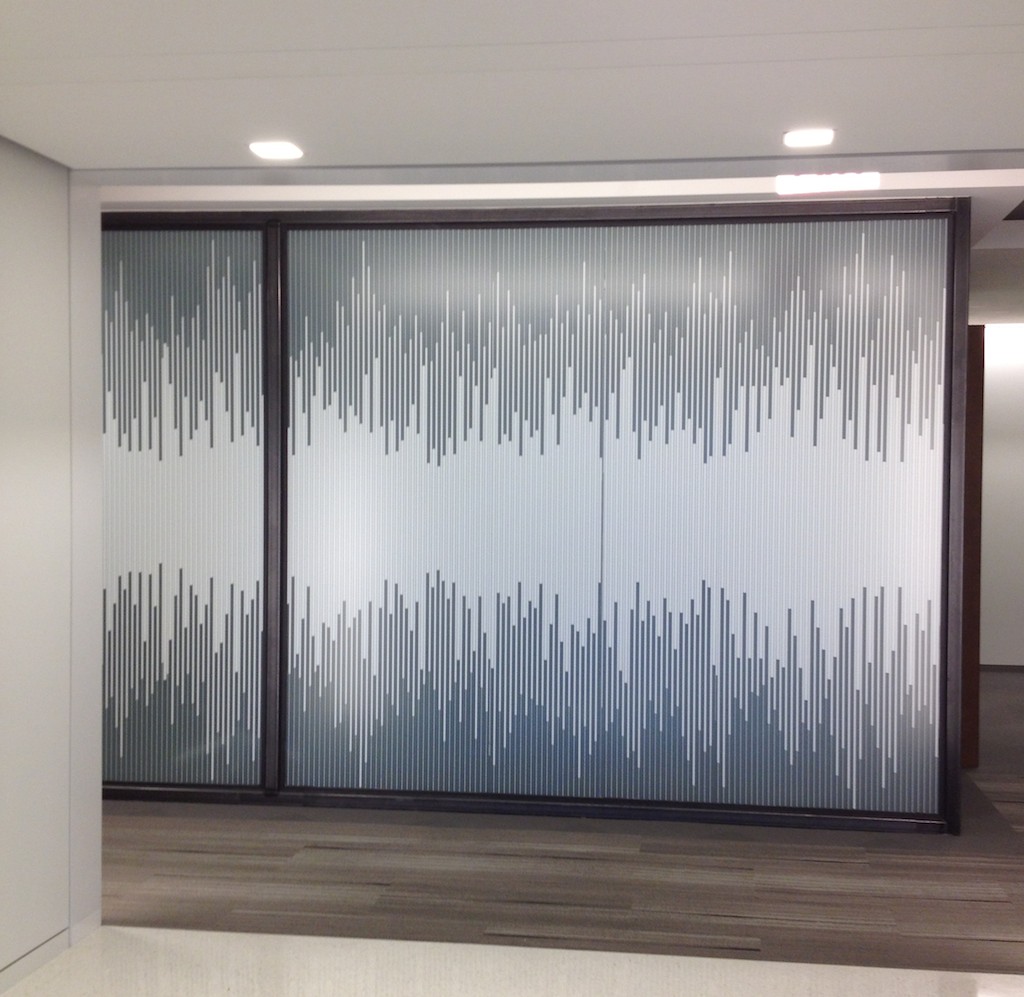 Colorwork can be both – intimidating and frustrating, beautiful and rewarding! I do not consider myself a colorwork connoisseur, but I have turned to it multiple times to reach the desired effect in a knit garment or accessory. And every time it was worth all the efforts and patience. With every project my confidence grew and my skills have been getting more  practice. I have discovered better ways for me of working it and making little discoveries and tips that might help other knitters with their process. I admire designers who are almost exclusively create and design with colorwork and fair isle. They are truly an inspiration to me. One has to have a good eye, taste and knowledge for harmonious color pairings to turn tiny intricate patterning into wonderful garments.
Back when I was working on Trace I've been fantasizing to use that similar effect for something else, a different graphic, a different clothing item. So when I had begun my stitch pattern development I have been reverting to the similar color distribution and usage. I've had begun by obsessively swatching and trying to find the best possible way to work in more colors. I have knit a shawl prototype with 5 different colors, however the colors I used were not close enough in palette even though they were in the same color family. Their contrast was quite stark and to me it didn't feel right for what I was trying to achieve. Unfortunately, not all ideas can translate and work out in a different stitch pattern. Now, months later, I know how I might have solved that issue but it would have given me a bit different design than I had originally planned. Thus I have abandoned the idea and decided to go a bit simpler route and work with 2 colors only.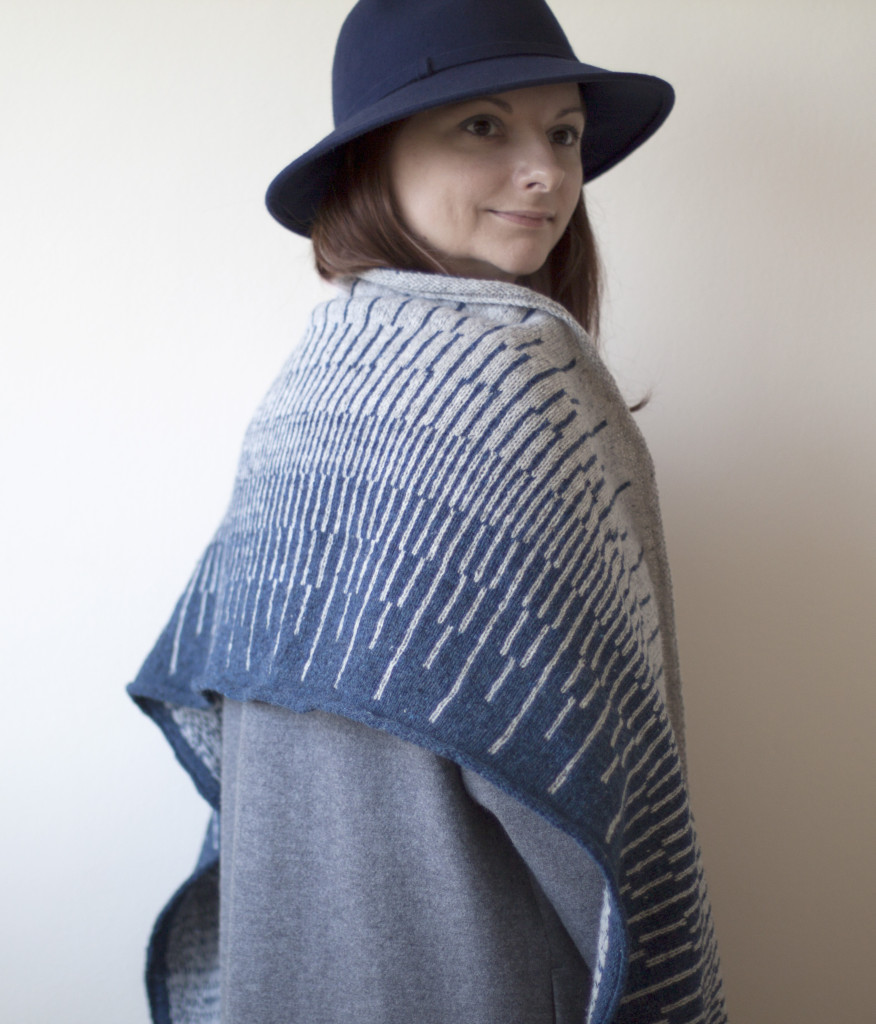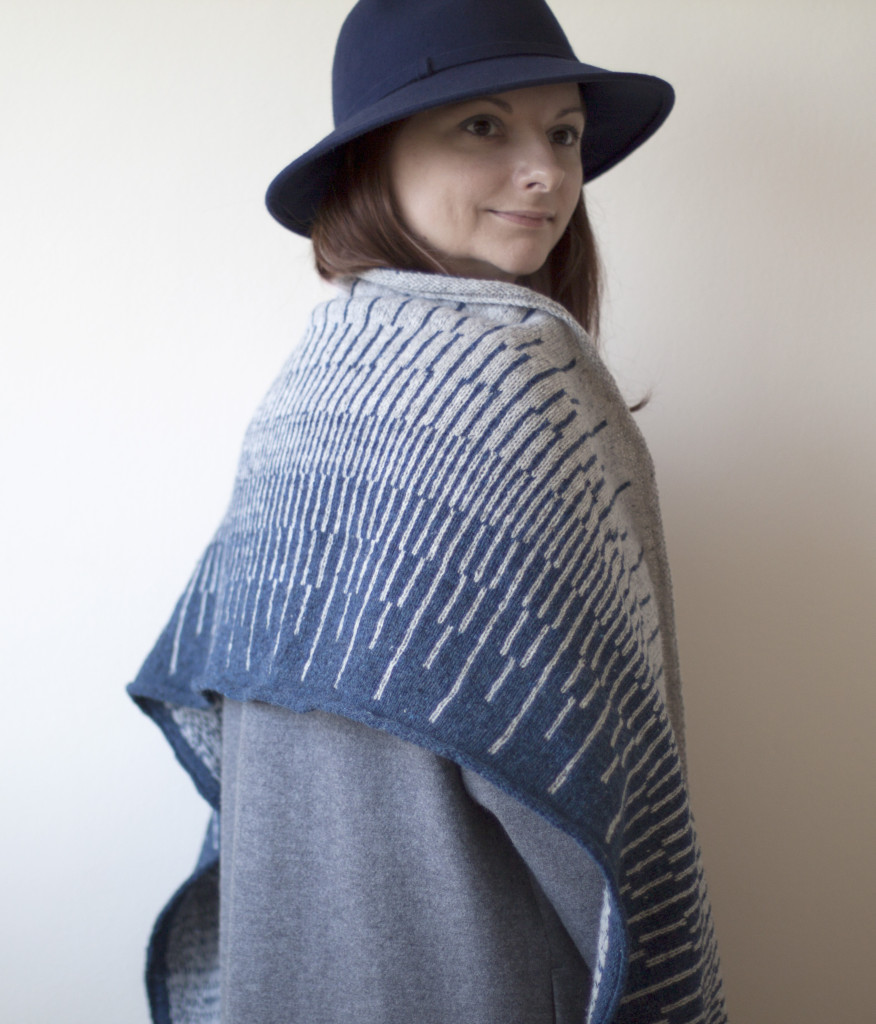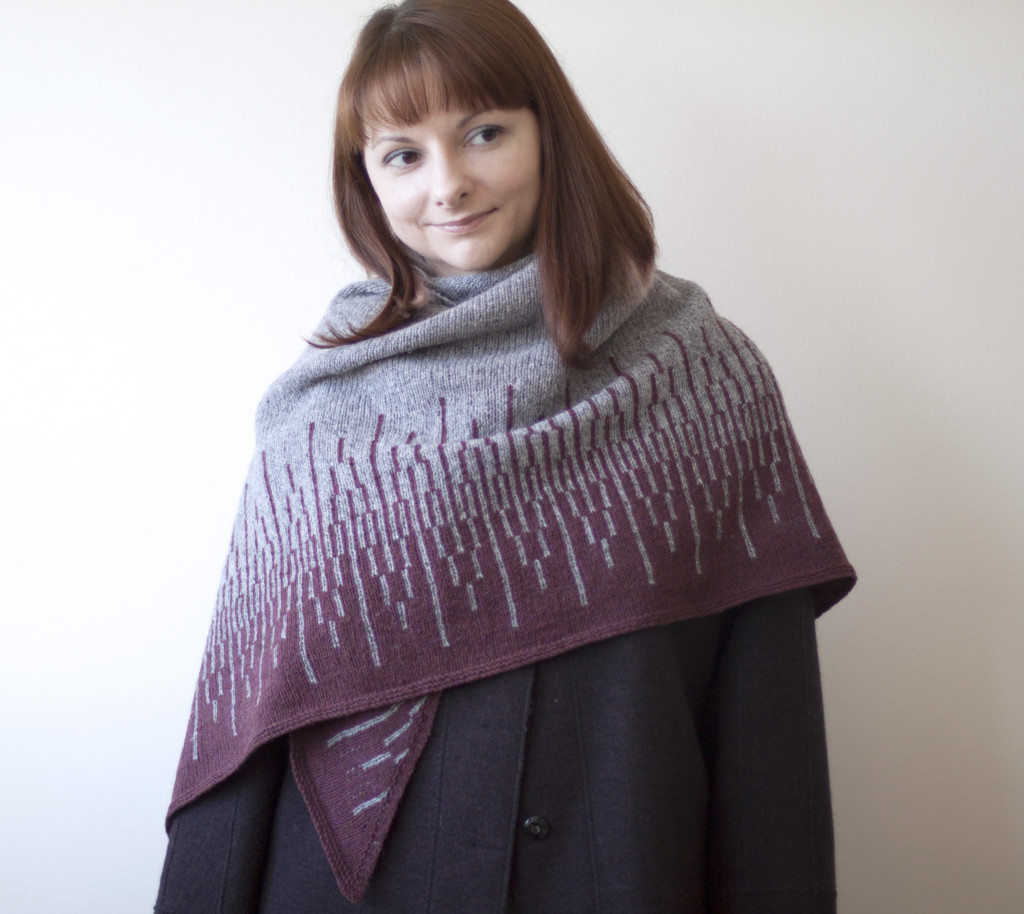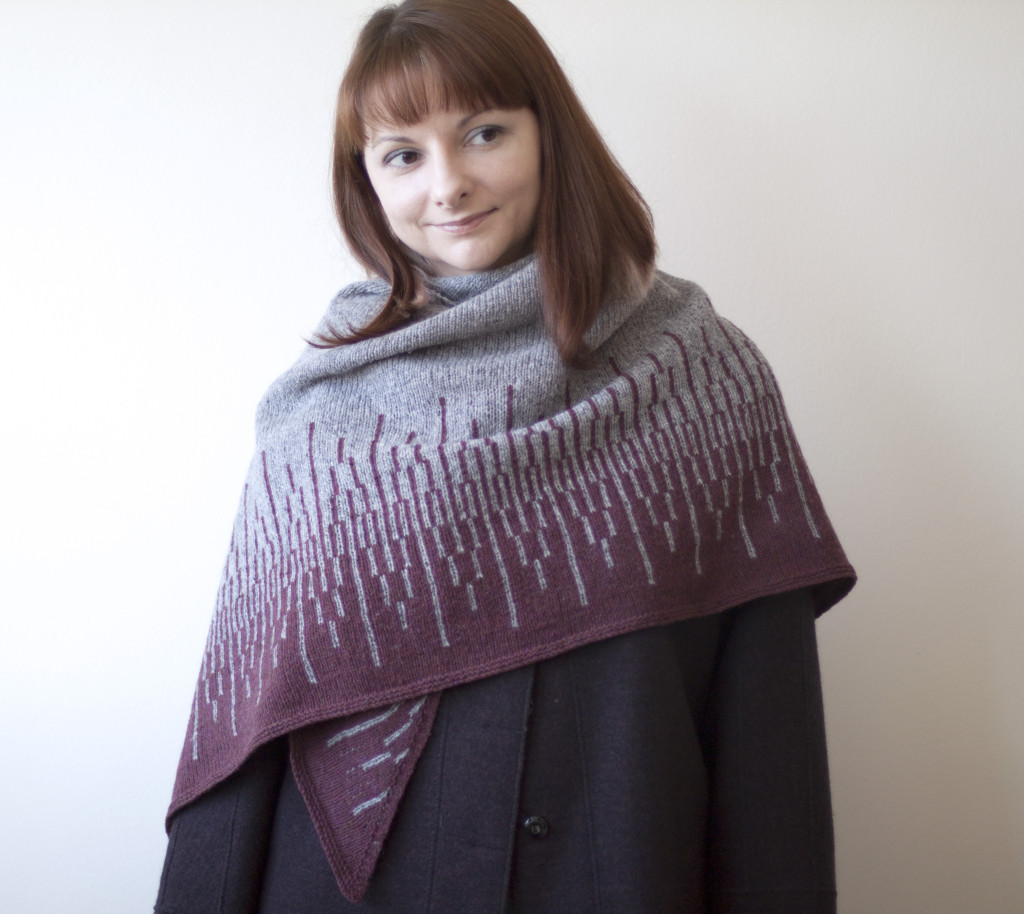 I have picked an already trusted Brooklyn Tweed LOFT yarn, knowing how reliable and perfect it has been behaving in my hands while doing colorwork. Squishy and lofty, just like a marshmallow, all while having enough "grab" to maintain even floats. Easy to spit-splice and colorwork that will lay flat and even that when done properly would look great on the reverse side.
Other biggest excitement in my process while working on this design was picking color. For triangular version – Onpa Shawl – I've chosen a slightly muted burgundy that is called "Homemade Jam" and paired it together with the heathery "Sweatshirt" grey. And for rectangular version – Onpa Stole – I went with the beautifully saturated blue "Almanac" and winteriest color of grey "Snowbound".
I knew the moment I cast on for the triangular version that I must make the rectangular version available as well.
So what's the difference,
Onpa Shawl is a triangular version
USD 7.00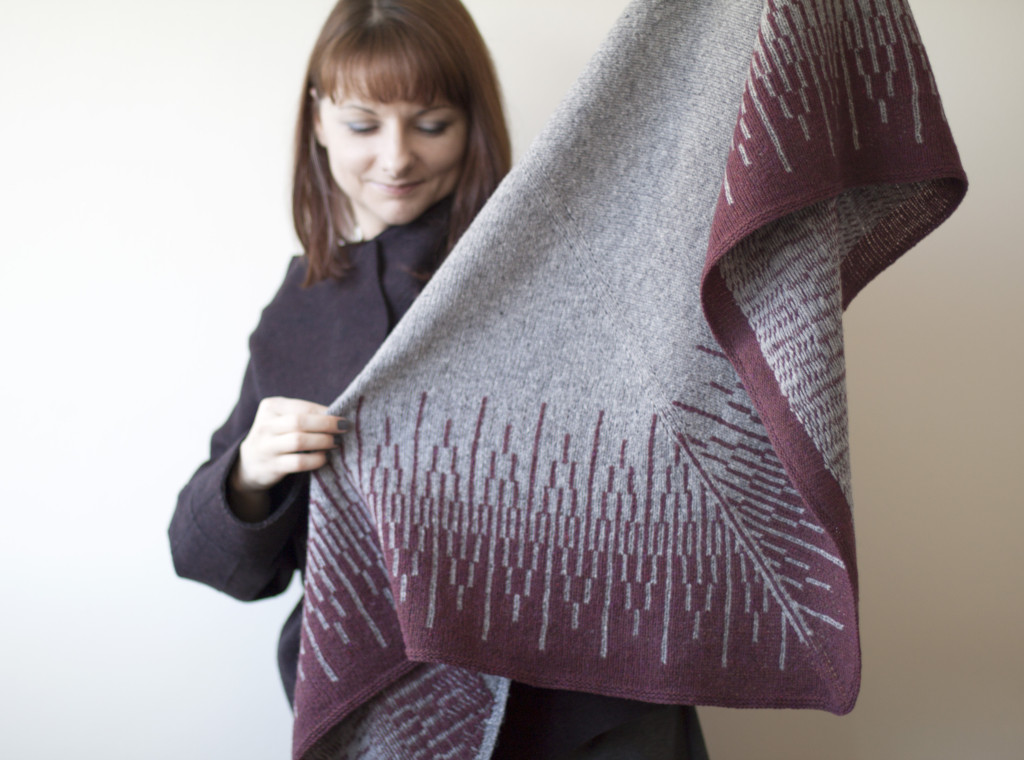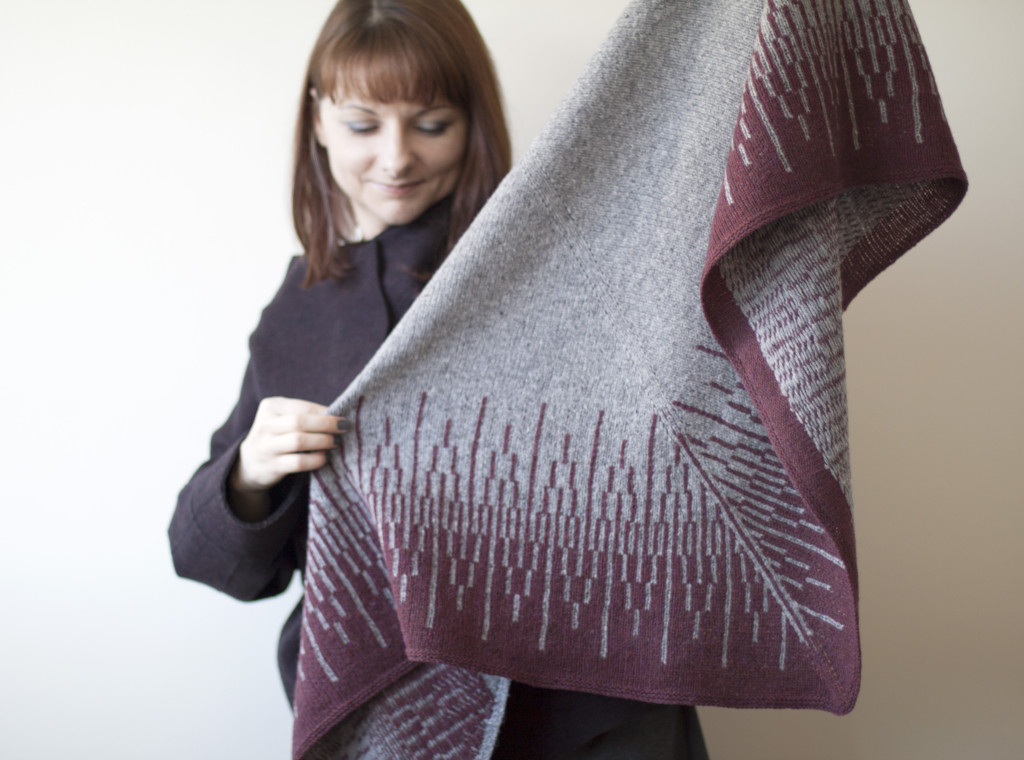 Onpa Shawl is worked flat top down and uses techniques like provisional cast on and working colorwork flat. Meaning that you not only knit, but also purl while maintain color pattern. I am a Continental knitter (the combination kind) and many years ago I've taught myself how to knit English style, just so I can use stranded method and work with both hands carrying a color while doing colorwork. But because I am mainly Continental style, I have discovered that use of this nifty little tool – Yarn guide – helped me speed up my process while producing even floats. Mind you, that it does take some time getting used to, but I've heard amazing things from Continental knitter friend of mine who works her colorwork in the round now at incredible speed and she helped me in producing of the stole.
Onpa Stole is a rectangular version
USD 7.00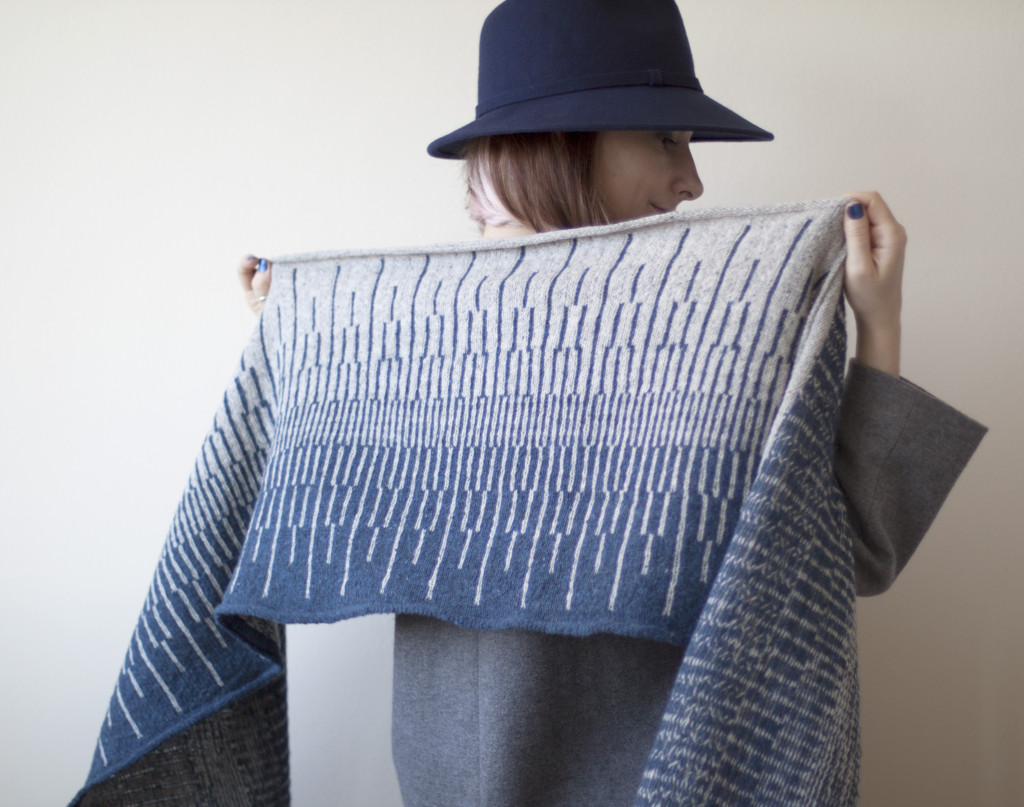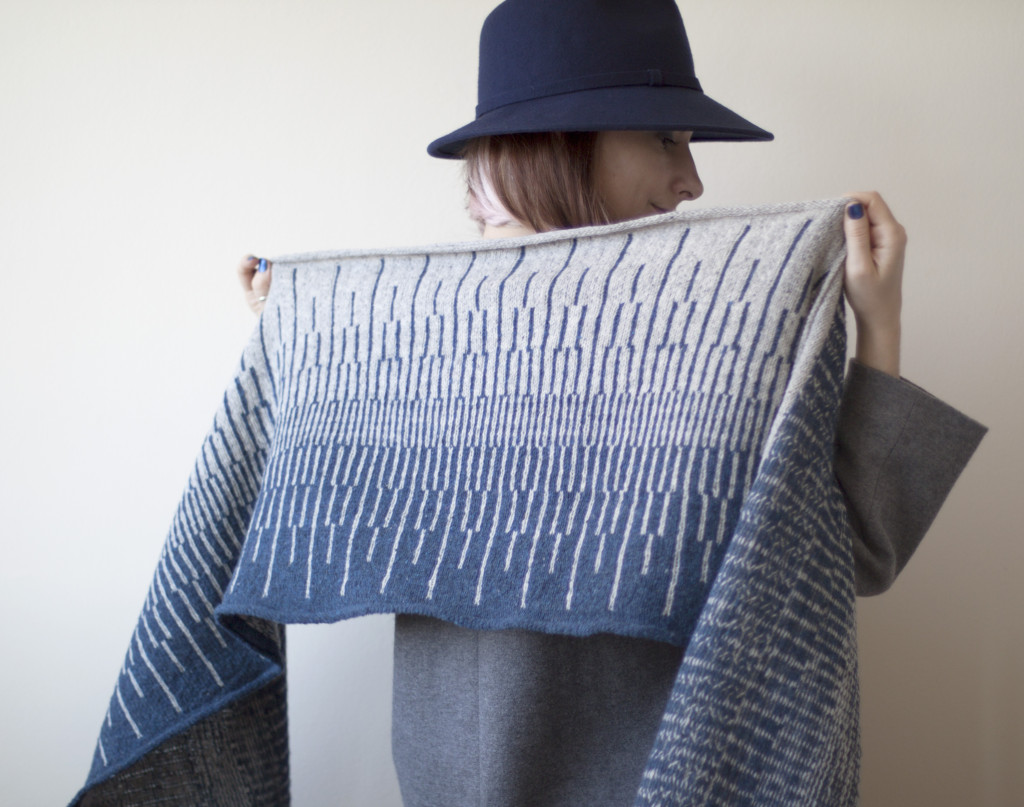 And that brings me to Onpa Stole. This design has more potential from wearing point and offers more customization options . Because the way this pattern is worked and built, you can make it not just as a stole – you can work less row repeats and turn it into a scarf which would be just as graphic. You can play around with the number of the repeats, work double width, but reverse the orientation to create a beautiful throw or a blanket. You can cast on less stitches and omit the steek and turn it into a cowl. So versatile!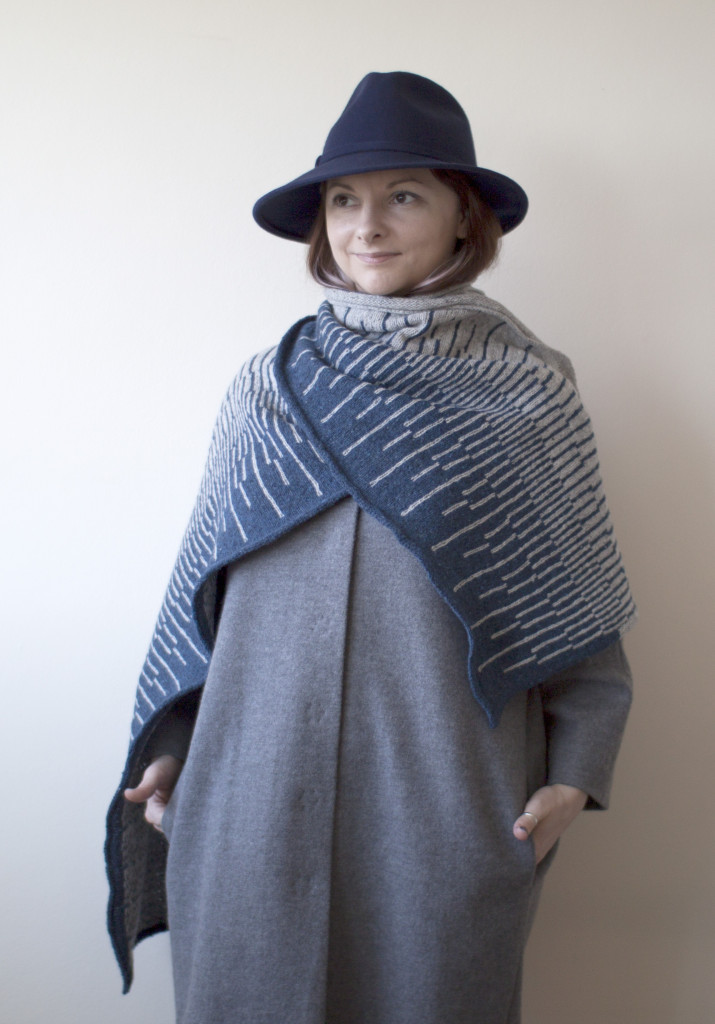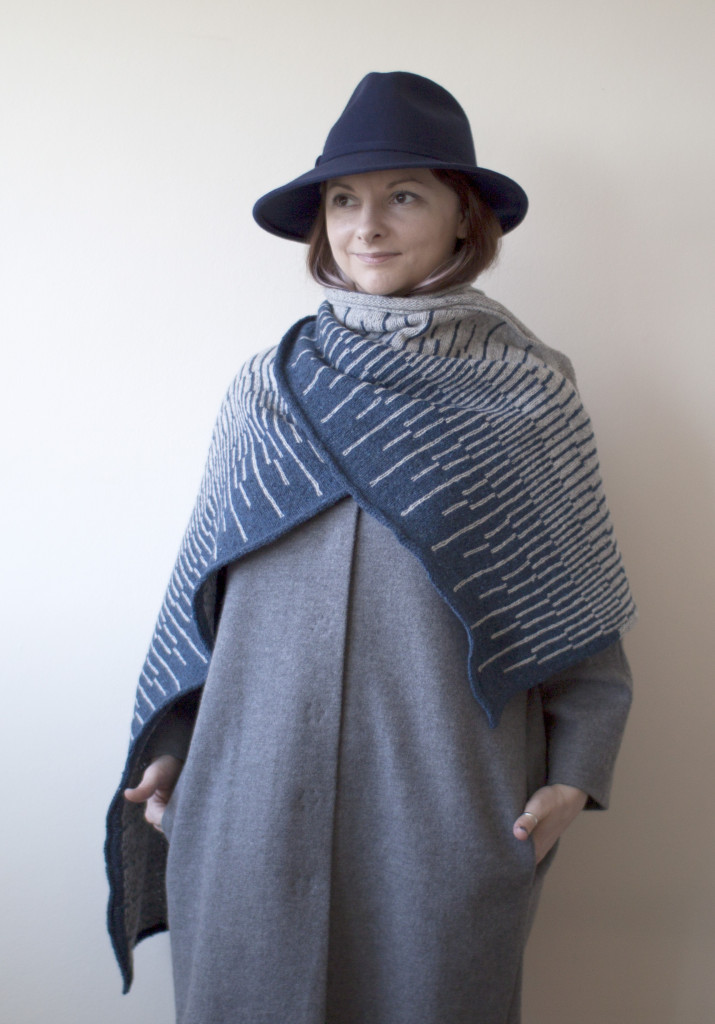 One of the goals for these shawls was also to discover a better way for trapping my floats in a neater way, I am so glad that I have succeeded and more. The floats trapped in both of these designs in such a way that renders them both reversible, while creating slight patterning of their own. I am especially happy with how the colors look in reverse gradient on the back side of the shawl and I have included all those tips in the pattern.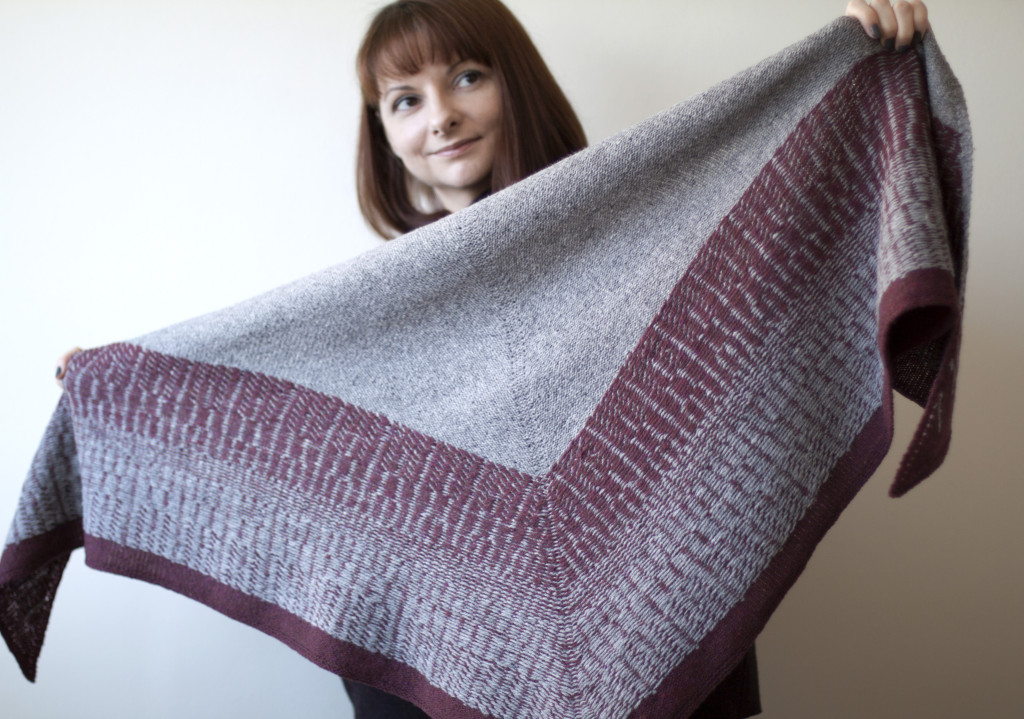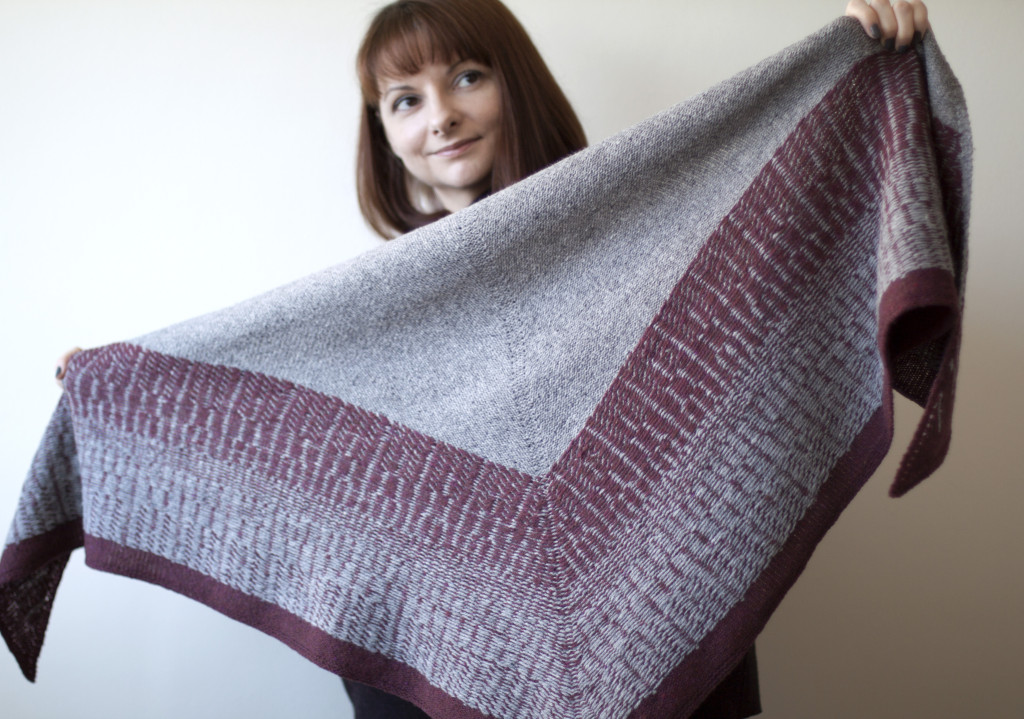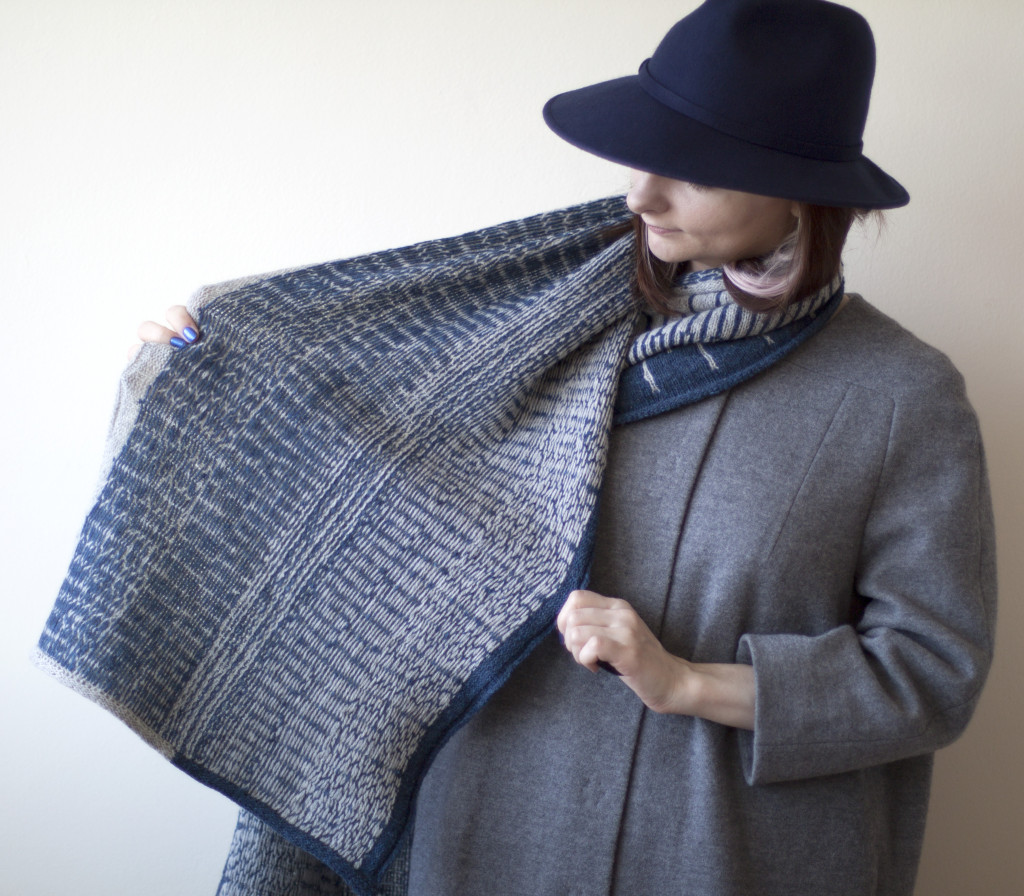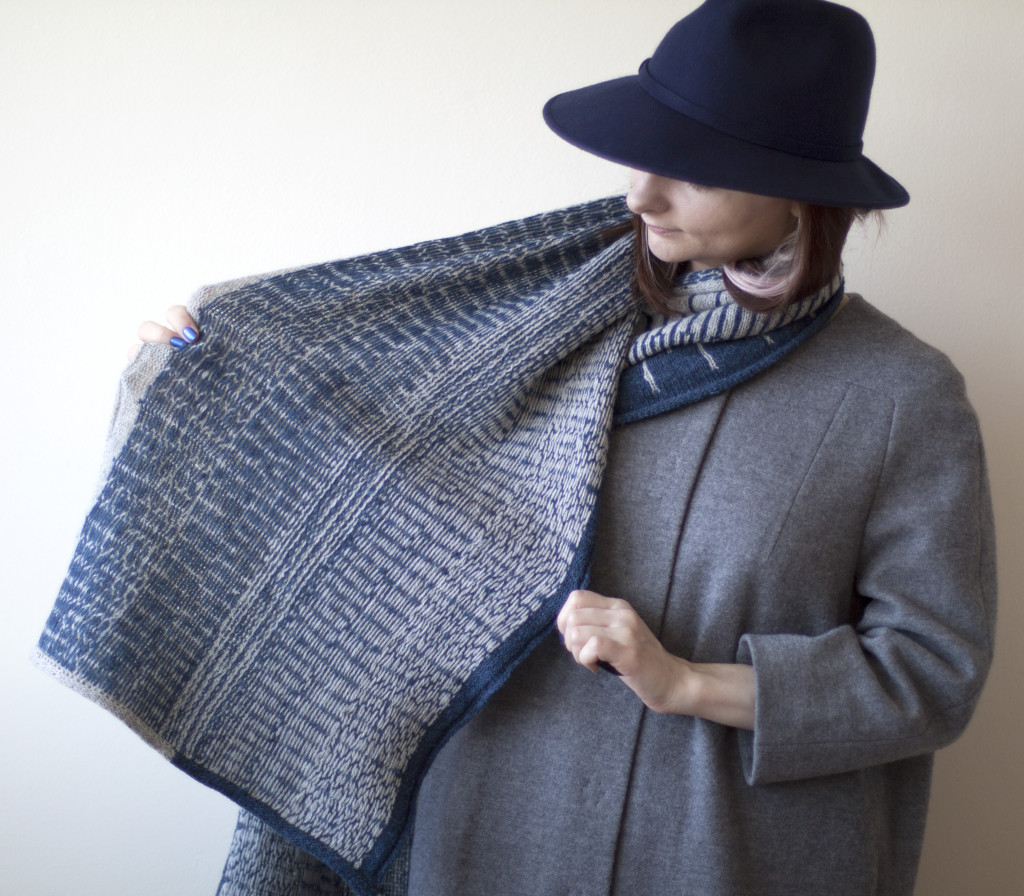 Even now I realize that the possibilities are quite infinite for either of these. Imagine using ombré  yarn as a contrasting color all the way through. Or use 3 or 4 or 5 solid colors in a color progression but only use them in a contrasting placement in the pattern. I am currently knitting another Onpa Shawl for me using colors of Brooklyn Tweed LOFT in "Soot" and "Hayloft", those who know me are aware of my love for all things grellow and I am quite excited as I have chosen to reverse the color placements and made lighter color as a contrast this time. Can't wait to show you!
I will write more about these designs in the upcoming weeks as I am hoping you will join me in this Winter's ONPA Knit-A-Long hosted here and in my olgajazzy design group on Ravelry.
GIVEAWAY
5 lucky knitters will be gifted with a copy of either Onpa Shawl or Onpa Stole digital pattern.
The rules are simple – leave me a comment here at the bottom of this blog post and please follow me (unless you already do) on Facebook and Instagram
I will draw winners on Thursday morning October 30, EST.
Happy knitting and Good luck!
Save
Save
Save