The whole time while living in Japan I've been admiring the abundance of modern architecture that spread throughout the entire Kanagawa prefecture and specifically Tokyo. So when Meri of Amirisu asked me to design a garment for their architectural issue my ideas immediately floated towards my favorite building in Tokyo – Prada building in Aoyama that was designed by Herzog & de Meuron agency in 2001-2002. The unusual structure in itself is the most fascinating thing about it, but for me it is the surface that is covered in convex and concave windows that in a pattern form the random bubbly impression. The thick glass structure captures the light in the most amazing ways, depending on the time of day you are witnessing it. So during most of my day trips to Tokyo if I ever was in the neighborhood, I would visit the building and say hello and snap a photo or two just to admire it once again.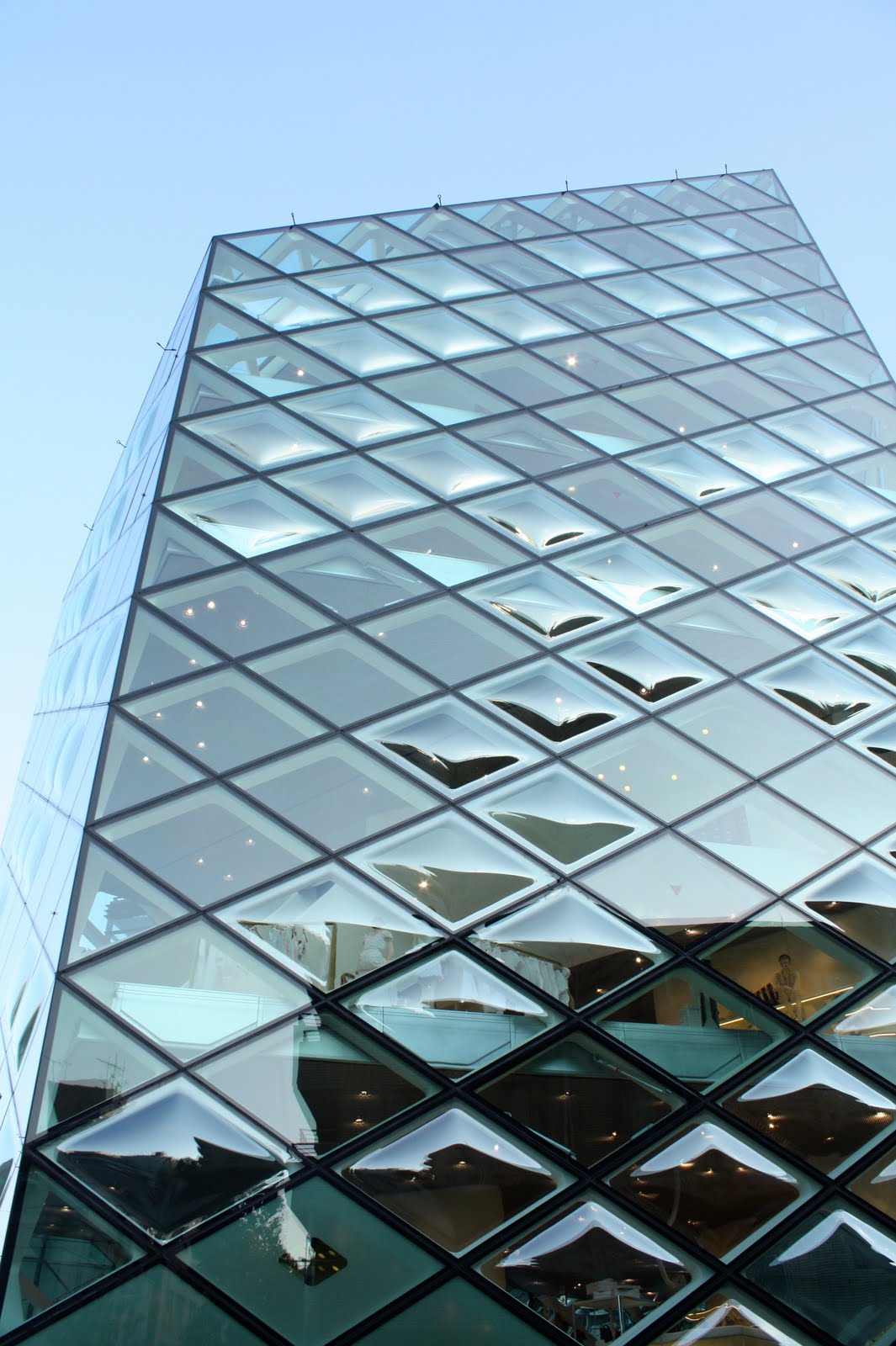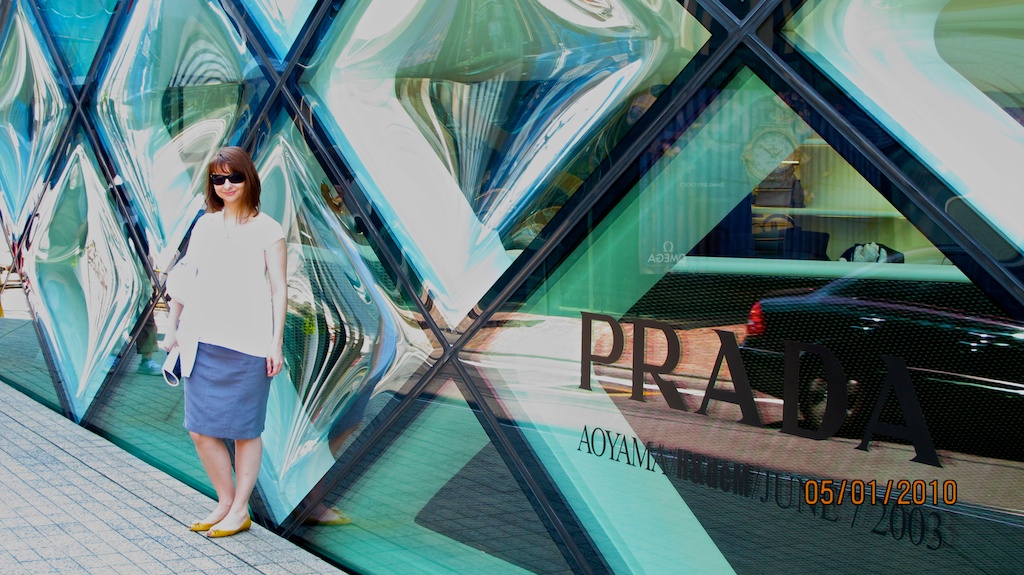 And as you can see here the building looks so different during the night hours and you can even spot the different colored cells from the inside that allow the company to decorate yet be visible on the outside.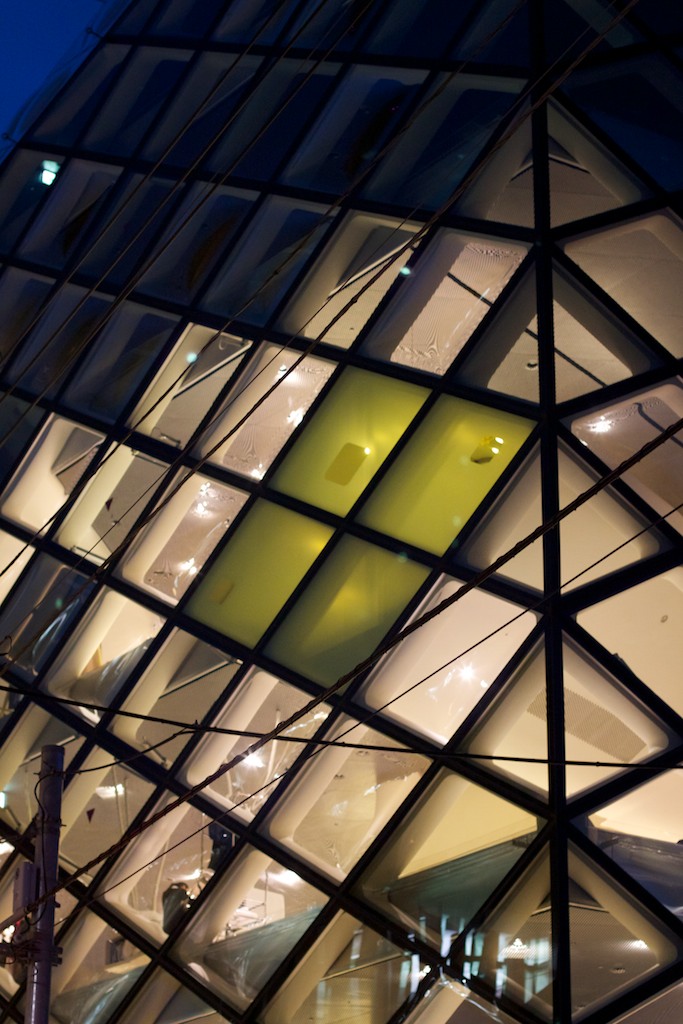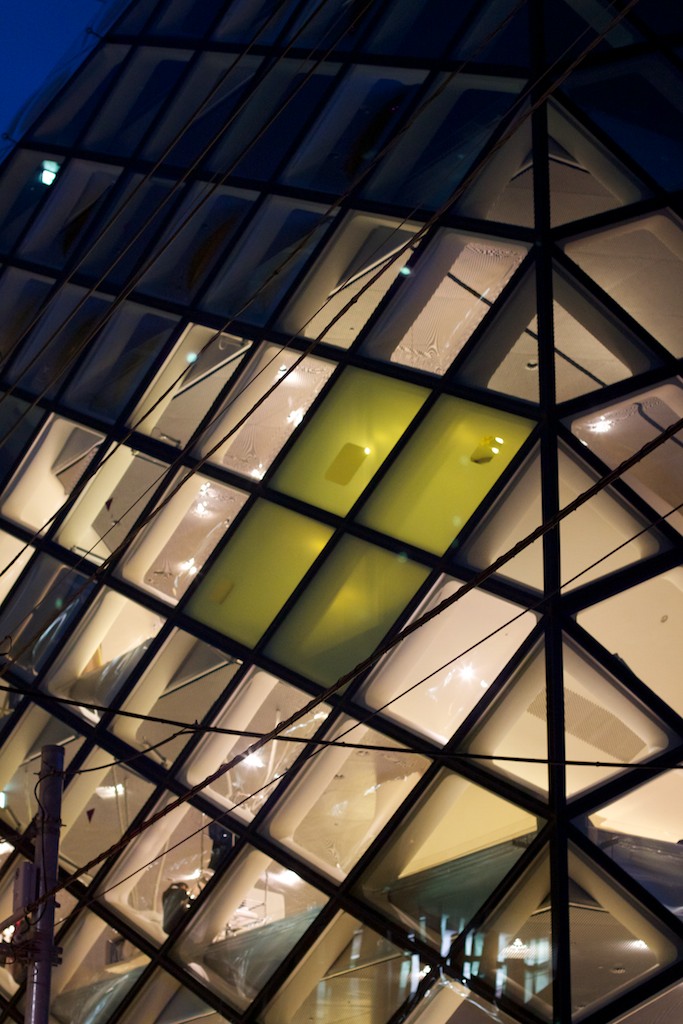 Alas, delegating can be hard at times when there is a lot at work simultaneously. Unfortunately, I was too late with my cardigan to make the deadline of the architectural issue. So Abuku cardigan (from Japanese meaning "bubble") was published in the newest woodland issue of Amirisu. Abuku cardigan certainly started as a design from the ways of thinking up of numerous ways possible to translate the impression of bubbles into knitwear.
I have worked with a similar stitch patterning before while developing my Cowry hat design, only this time I took it further! The Bubbly panels are worked separately and grafted together on the back neck to create a seamless, uninterrupted look of the texture and later attached to the fronts and neckline of the cardigan. But what makes this cardigan different and remarkable is that the "bubbles" slightly diminish in size as we progress towards the neckline. Which gives a nice shaping details without sacrificing the overall texture while being reversible in case you chose to flip the collar down.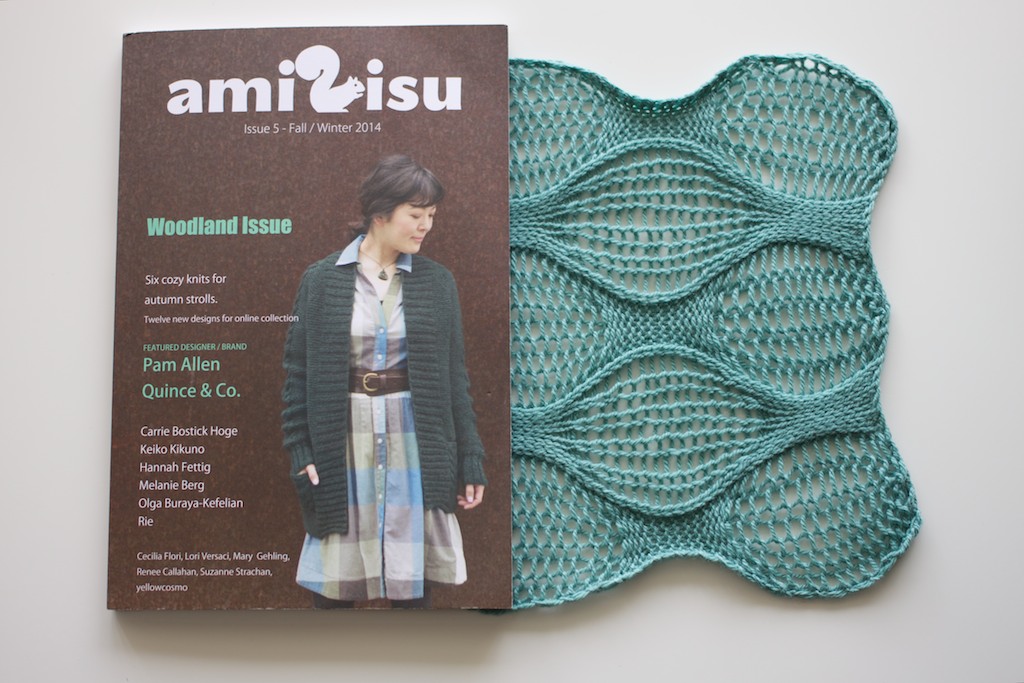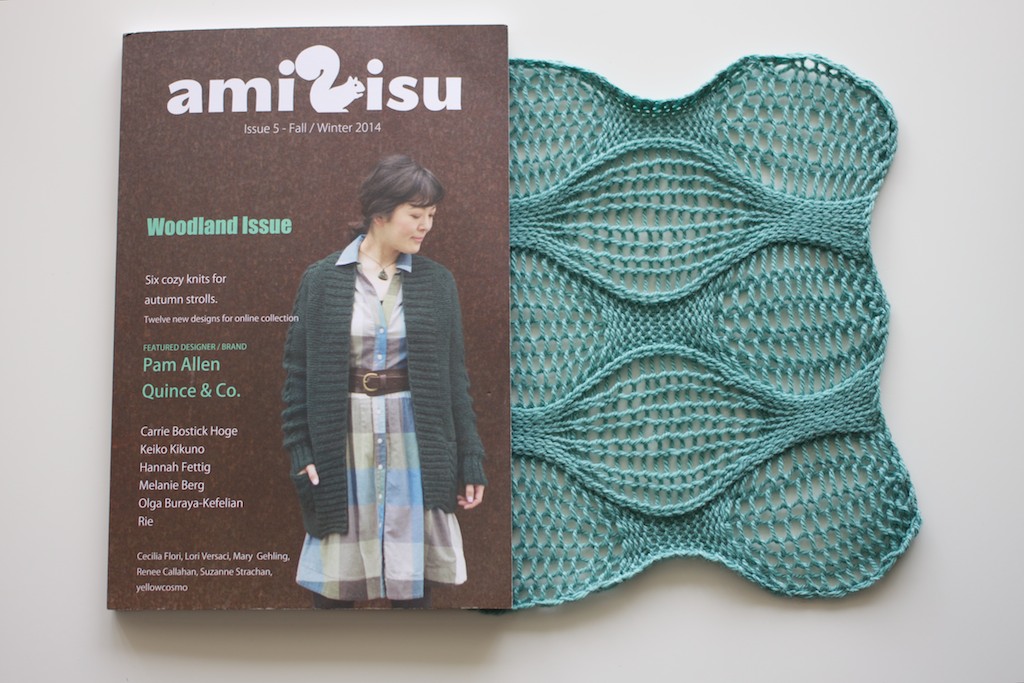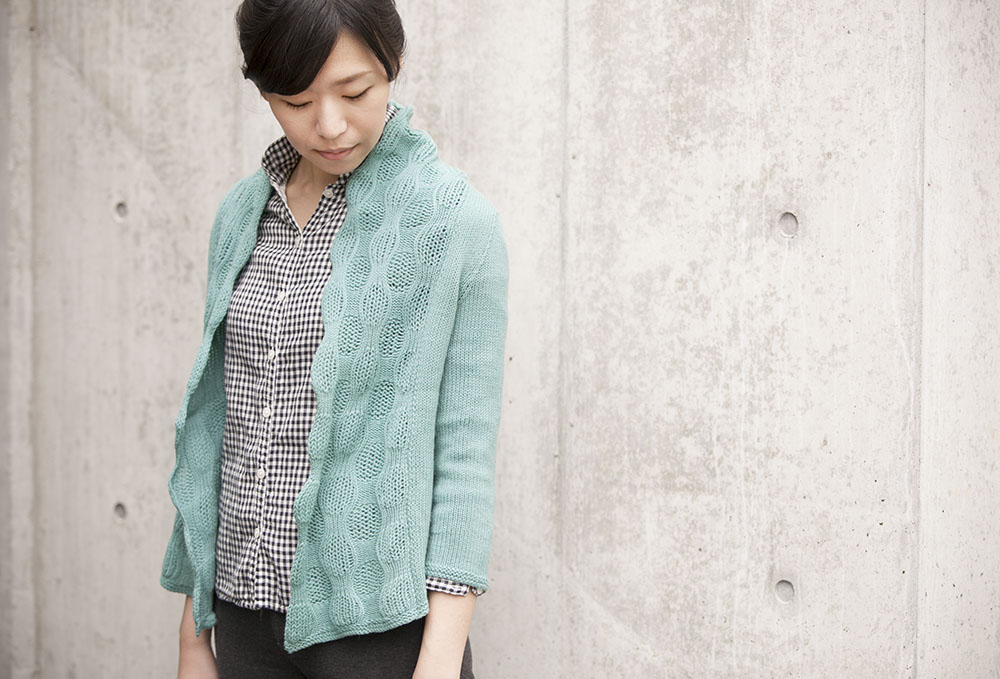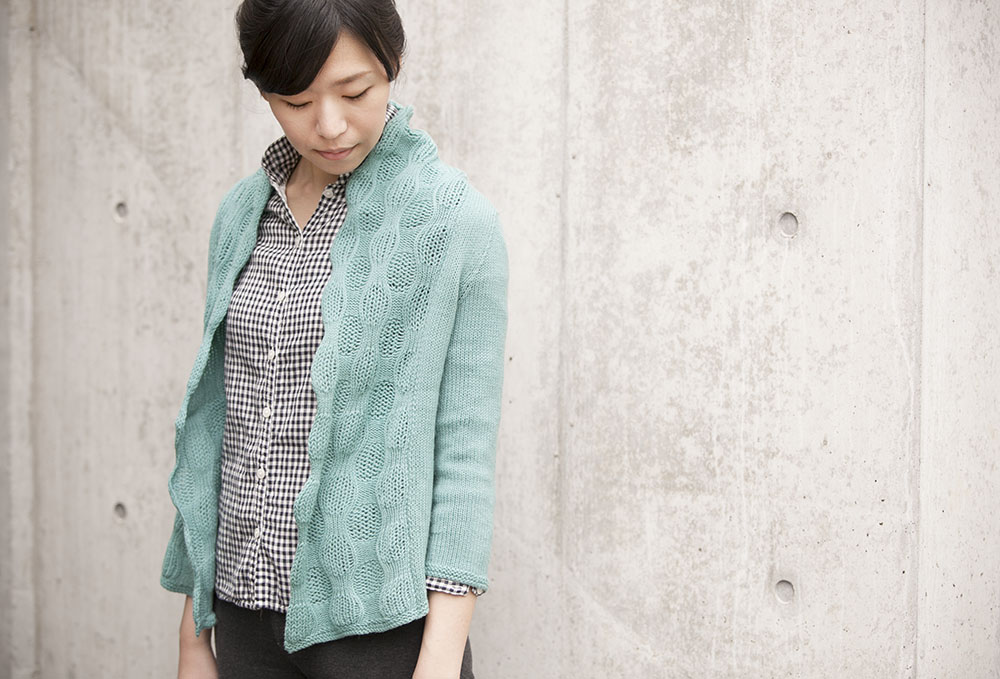 The cardigan, worked in Quince&Co Chickadee yarn, used a brand new construction for me – it is worked in one piece till underarms, then the 3/4 length sleeves are worked in the round till underarm as well. The yoke is then shaped simultaneously in 1 piece in a set-in sleeve look, which leaves us only with 2 shoulder seams and 2 underarm seams to take care of. Knowing how much some prefer to avoid seaming at all costs, this design doesn't eliminate it, but cuts it down significantly. Walnut – a yarn store in the heart of Kyoto and the brainchild of the same Amirisu duo is currently hosting Abuku cardigan Knit-A-Long and you are welcome to join with us to make this light cardigan which would suit these transitional temperatures for a great layering look.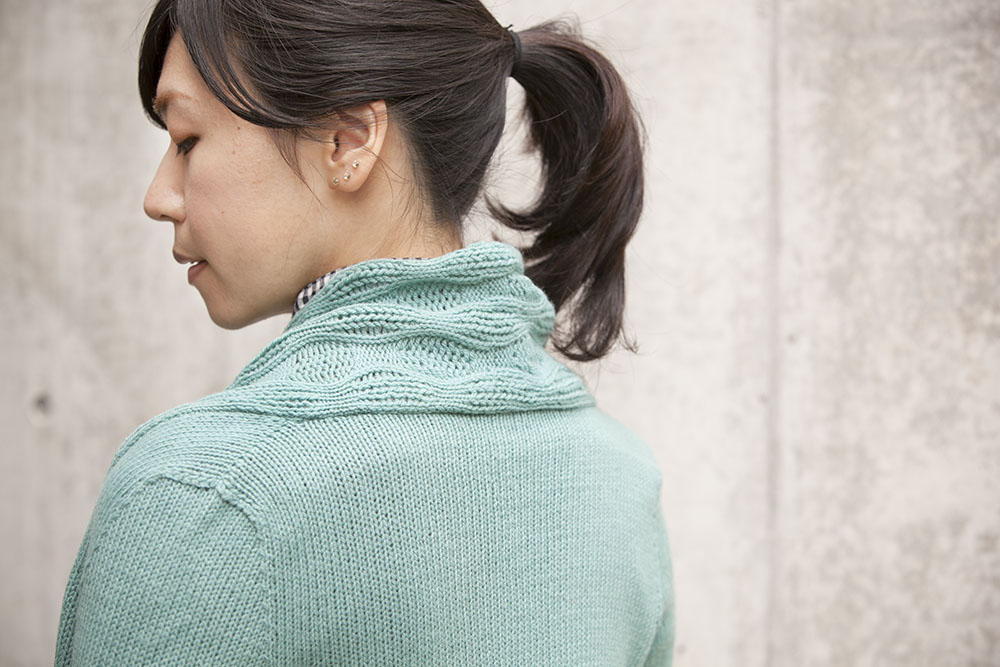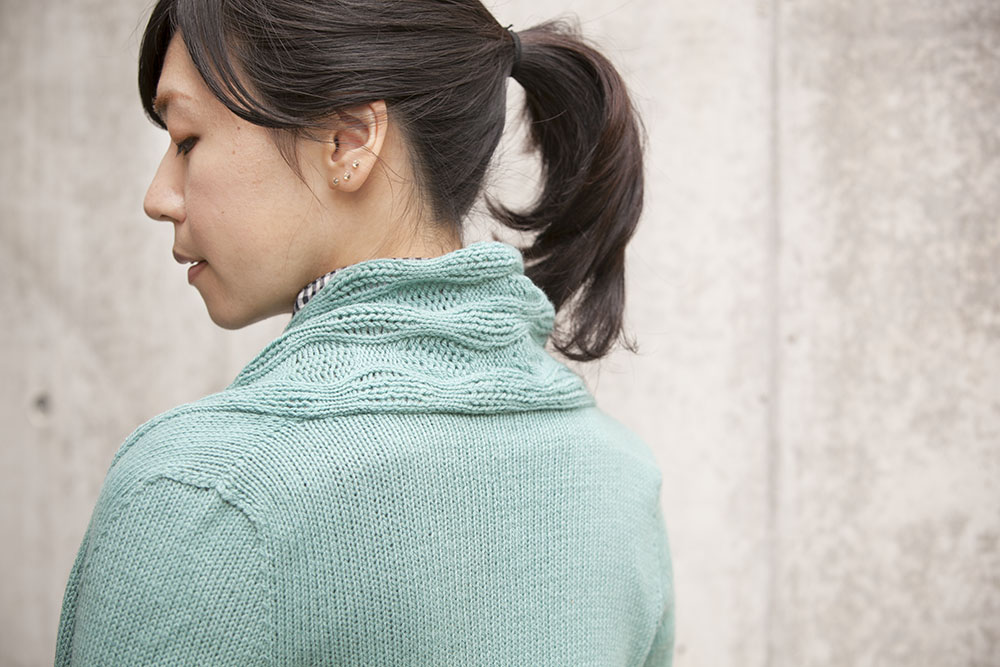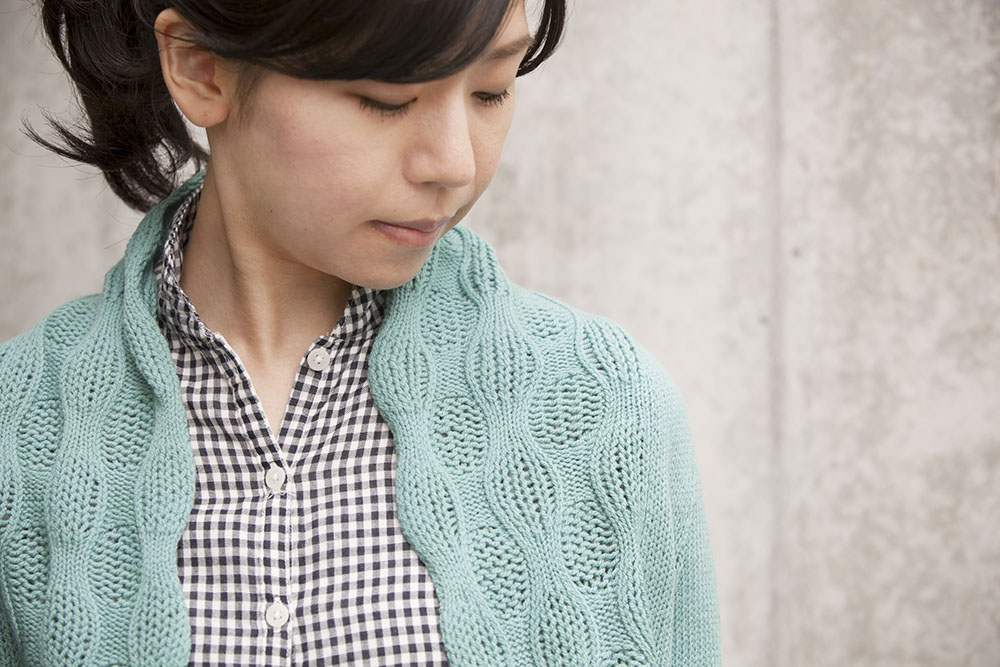 So why Amirisu and what is Amirisu? Amirisu in translation from Japanese means "squirrel" hence the appearance of it in the logo. They are a bilingual Japanese and English knitting magazine which started as a webzine and now has slowly but surely has expanded into a printed magazine as well! 6 of the patterns from woodland issue including Abuku cardigan are also printed inside the paper magazine accompanied by inspiring interviews,  the distinct style photography and articles. And starting next issue ALL of the patterns are going to be available inside the printed issue as well as continue being available in digital form.
Amirisu is breaking all the rules to knitting pattern style known in Japan. If you are familiar with the ways most Japanese patterns are written, you know that it is a chart and a schematic with numbers on them, which is quite easy to follow and read once you grasp the concept, it is really quite brilliant! But there are several drawbacks – such as those patterns are most definitely ever available in one size only and as much as we might have wished we are not one-size-fit-all people, so a knitter purchasing the pattern is most likely in need of changing and re-calculating and tailoring that pattern to make it fit properly. And ladies of Amirisu are bringing a new era to Japanese knitting world by offering written patterns in several sizes for those who wish to make them without needing to go extra math miles to figure it out on their own.  Don't get me wrong, the current style of pattern writing in Japan certainly has its benefits and works for many people, but it is also great to see the initiative that is striving to improve and bring the needs of each knitter into modern times with this new format. And now you can subscribe to Amirisu as well!

 some photography ©Amirisu and Kimiko Kaburagi