This new home is all shiny and cosy, so please come in and make yourself comfortable as I hand you a virtual cup with a warm drink to take a moment with me and enjoy the new digs as I settle in. And if you wish to know, I can tell you all about it. But anyone who have worked building a website before you must know that it is not a speedy process, especially when so many creatives are involved. The same can be said about this one, has been long time in the making and went through some challenges and dilemmas, the ups and downs and changing concepts – just as the ever evolving market we live in. I was looking forward to a new platform that would inspire me to write better and more often. In my old blog it felt the walls were closing in and regardless the updates, I felt constricted.
The new colors make me happy, they are me and words are easier to share. And with the first day of Spring today it is only appropriate to have feelings of renewal and fresh inspiration.
Here is the new RSS feed if your reader cannot pull it up. http://olgajazzy.com/feed
Even though the weather has been completely erratic – one days it's snowing, the next the the birds are singing of imminent Spring and you just want to hide all the winter coats away, but as for the knits, they will be sticking around for a bit longer I am sure.
Earlier this week I have released a new design for a cabled hat, Kemuri Hat, the design that I've scrupulously poured over and have re-knit several times before it reached perfection in my eyes. I have scored the last skein of The Plucky Knitter Sweater from the shelves of Fibre Space last fall and knew right away it was destined for a hat. I have noticed that the abundance of hats that I own and ones I actually wear steer more towards the neutral colors, silvery and medium grey in particular, with lots of texture.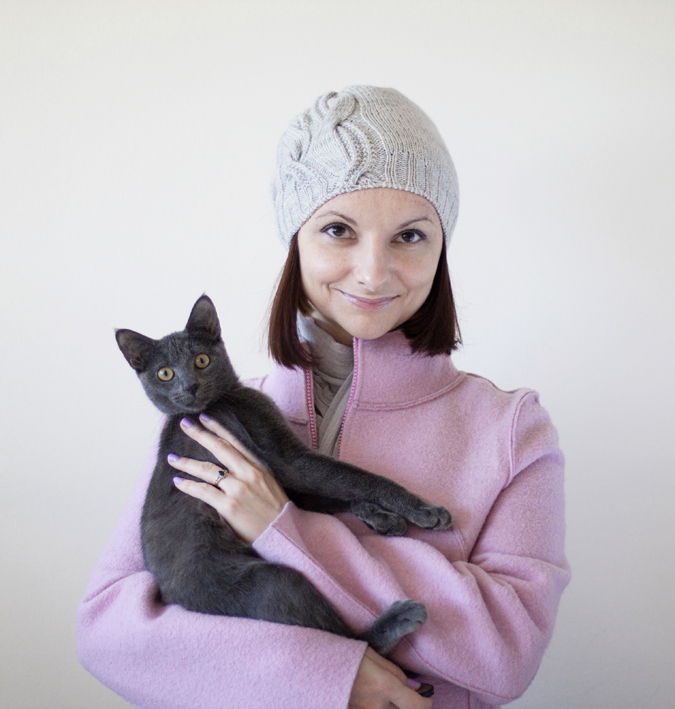 And as you can see, there has been a recent addition to our family – meet Squirrel, another grey cat who we got from shelter when she was just a tiny 2 week old kitten. She has grown so fast and proved to be quite a character, just as most of the grey cats I've known. Example #1 – highjacking my photo op. She is cute, so I'll let her have this moment of fame since my Instagram feed has been subjected already to too many cat pictures (is there such a thing as too many cat pictures?)
Kemuri  Hat features 2 voluminous cables running aside the hat, beginning almost at the cast on edge. The two cables are similar, but each twists at different intervals and that bit of texture helps to create a more dimensional look. And with the hat being worked in the round you can actually choose how to display this cable when worn. To have this hat look even more polished I have included the technique for Tubular Cast On for 2×2 ribbing within the pattern that you can learn if you like or you can just skip it and go with your preferred method of cast on and proceed with the rest of the instructions.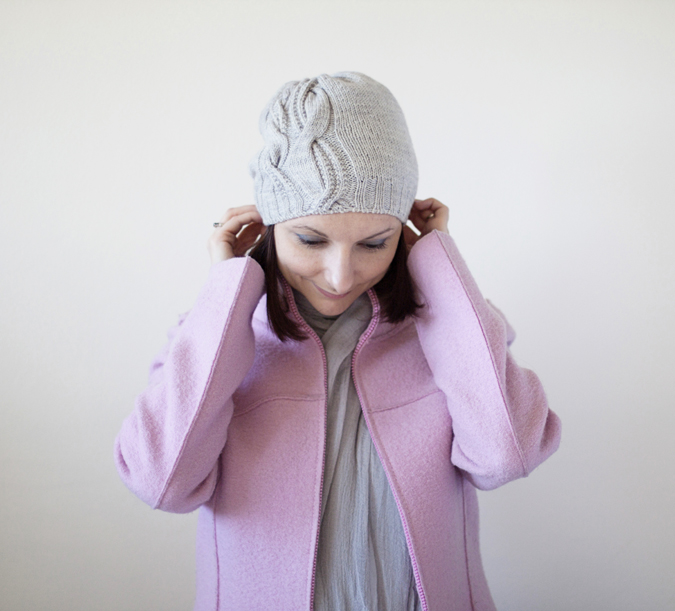 Knowing that knitting is such a personal thing for everyone, just like hand-writing, this time I have included instructions for both – written and charted. So whatever your preference might be or mood you are in, you have that choice within the pattern.
USD 6.00


Happy Knitting!